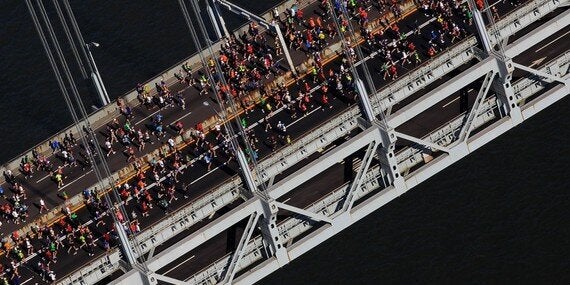 Within 24 hours of the explosions at the Boston Marathon last April, another, more powerful one went off: Marathon registrations surged all over the country. The message was clear: You can't take this away from us.
Over the past few years, you may have noticed that parks and sidewalks have been crowded with new runners. An unprecedented number of people, many of them in their 30s and 40s, have been shelling out for fancy running shoes and joining running groups. In 2000, about 300,000 runners crossed a marathon finish line in the U.S., compared with over 500,000 a decade later.
But why? There are a million saner ways to get into shape or compete. And in a sport where security all of a sudden is a major concern, racers and spectators alike are arguably putting themselves in danger by participating. There has to be more on these newly minted runners' minds than an upbeat desire to run for a really long time.
This year's New York City Marathon no doubt will be accompanied by some of the post-trauma symbolism that was so prevalent in the months following the Sept. 11 terrorist attacks. This time, the heroes will be the runners themselves, not just the first-responders. That's appropriate, but not for the obvious reasons. Many marathon runners were in it for more personal, emotional reasons long before an act of terrorism became linked with their sport. Sure, we'll enjoy the ticker tape, but our bravery and defiance is often about far more than just standing up to domestic terrorism.
If three years ago you'd told me I was a nascent marathoner, I'd have told you to leave town. At that point, the absolute limit of my willingness to exercise was the occasional vanity lap around Brooklyn's Prospect Park, a labored 3.3-mile slog done as quickly as possible to get it out of the way until my blossoming beer belly compelled me to return. I was in awe of my handful of friends who had finished marathons, but enter one myself? No way.
But it happened. Last year was a drag. Not that anything terrible went down, but a complete dearth of good news can be worse than a catastrophe. I was depressed. My boss called me in one day and told me that while I technically was doing my job, my "promotability" scored a D. I'd never gotten a D in anything. I was just phoning it in, and we all knew it.
The main reason for this funk was clear. For years, my wife and I had been trying to have a kid, and 2012 was to be the big, final push to success. For those of you who haven't been through the wringer of late-30s in-vitro, it's a lot more than just jerking off into a cup -- although there's plenty of that. It's tens of thousands of dollars in bets that are stacked against you and it's countless doctor visits. It's injecting your spouse with two-inch needles and it's a robotic sex life. It's looking longingly at a printout of a blob of cells. Worst of all, it's a wife who is heartbroken.
I needed an escape, but more importantly, I needed to take ownership of something in the face of this mid-life stasis. Whether I was conscious of it or not, I needed some sort of measurable success, and that, I decided, was going to take the form of finishing a New York City Marathon.
I'd actually run a half-marathon the year before. My company paid for it in return for raising some money for a charity I knew little about. That one scared me to the extent that I downed nine beers the night before during an apocalyptic rainstorm that I thought would last through the race. It didn't, but the run was brutal anyway. The marathon was to be -- well, twice that.
So I started running everywhere. I'd run to whatever event and just be the guy in running duds. Or I'd change after work and run home from Midtown across the Manhattan Bridge, then maybe finish off with a lap around my familiar training grounds. I picked the hottest day of the year and ran from Battery Park to the George Washington Bridge. My wife took to jokingly referring to herself as a running widow (she wasn't joking). But she understood that I needed this. Why else would I sneak out of the beach house to train before everybody got up? My sights were set on the 2012 New York City Marathon. I would finish that goddamned race.
The reasons for lacing up and getting out there are endless. In his autobiographical Running Ransom Road: Confronting the Past, One Marathon at a Time, Caleb Daniloff chronicles "navigating sobriety" after years as a self-confessed drunk. "No longer do I run from my demons, but run with them," he writes. "We pace each other, the past and me. And some days, I go faster."
Mr. Daniloff relates the story of an acquaintance who ran the NYC Marathon less than two months after 9/11, who described the race as "a huge collective act of defiance." This sentiment is not lost on anyone pinning a number to their chest in the post-Boston-Marathon-bombing world.
I asked my coworker, Denise Southwood, why she started running marathons, and she responded with surprising immediacy: "It was my divorce. I went from being a wife and a full-time mom to having all this time on my hands. My girlfriend and I ran it together, and if it weren't for that, I was this close to going to a shrink and getting on meds."
Then I asked my half-marathon trainer, Jim Purvis, why he took the plunge. "I decided to run my first marathon for the Leukemia and Lymphoma Society in honor of my parents' surviving cancer," said Mr. Purvis, a coach with Team in Training, a fundraising program for that organization. "Since that first marathon, I've completed nine more marathons -- some great, some incredibly awful, but in each one, I discover something new about myself that can only be found on a 26.2-mile run."
Indeed, there's plenty of data linking exercise with improving mental well-being. "We've done [...] two studies on major depression, comparing exercise with medication, and we found that exercise is comparable to medication in reducing depression symptoms and better than a placebo," said Dr. James A. Blumenthal, a psychiatrist at Duke University.
Granted, Dr. Blumenthal noted, it doesn't take running a marathon for someone to experience the benefits of exercise. He emphasized that the greatest benefit to people's moods comes from the transition from being completely sedentary to starting to exercise, and that anything more than 30 minutes of exercise three times a week is "gravy." Painful, ecstatic, nipple-chafing gravy.
A lot of "serious" athletes think the marathon has become the Everyman's Everest, that last item to check off your bucket list before checking out of physical activity altogether. But the sheer grit -- not to mention time commitment -- it takes to get to the point where you can crank out that distance marks a mental transformation. "I think any marathoner is an athlete," said Steve Lastoe, founder of upstart New York City Runs Inc., which manages and conducts races. His organization has hosted several local marathons since 2011, including one this year in Central Park, where the race had not been held officially since 1975. As for those marathoners who take six hours to complete the task, he said, "Who cares? What matters is what the athlete in question thinks. You may think my effort is pedestrian, while others may think it is Olympian."
Either way, some 48,000 souls are set to hit the pavement in New York this year in the biggest marathon in history. And among the superelite and newbies, the hedonists and mourners, those barefoot and with mechanical legs, you will find 48,000 stories.
My story came to a turning point late last summer when, upon rounding the top of that burly Prospect Park hill by Grand Army Plaza, I realized I'd left my customary -- and, I thought, requisite -- iPod at home. But I didn't need it anymore. For once, I could hear my footsteps, and they were not struggling. Escape had made way for arrival.
"Screw just finishing," I thought. "I'm going to turn in a respectable time."
The New York City Marathon was canceled last year at the 11th hour in the wake of Hurricane Sandy. After a moment of disbelief following all that hard work, I got on the horn and snagged a spot in the Brooklyn Marathon a couple of weeks later. And wouldn't you know it, the entire race was in Prospect Park -- and that bloody, beautiful hill, six times over, my wife handing me an energy gel at every pass. I was back home.
Lief and his running widow, Uma, plan to adopt. He is running the New York City Marathon this year.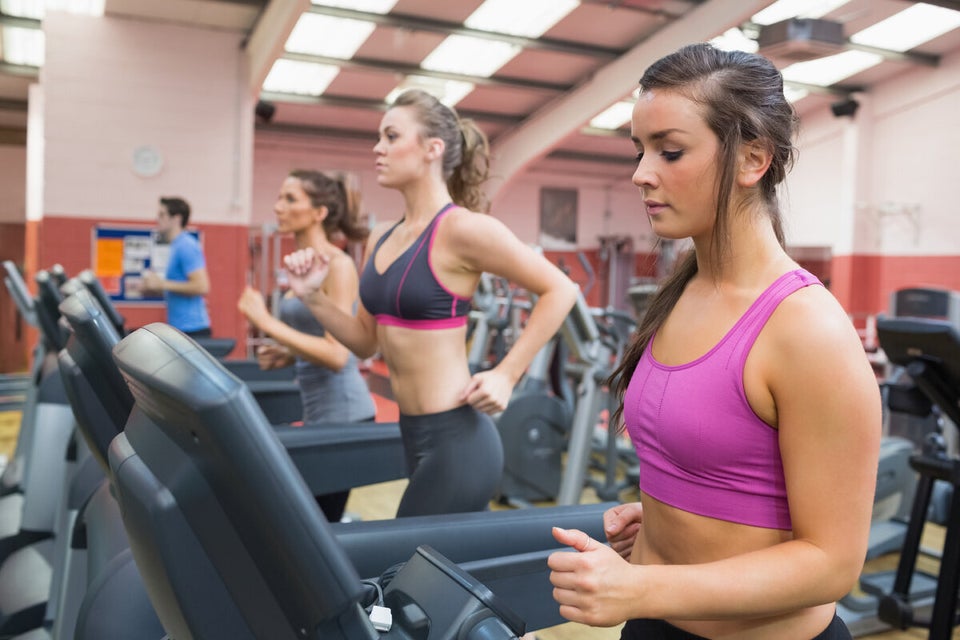 Weird Things Running Does To Your Body