As a mortgage broker working almost exclusively in B.C. for the last five years, I was curious to see how B.C.'s new foreign buyer tax and new mortgage qualifications would change my business. While some of the impact was predictable, I've been wholly surprised by its effect on other aspects.
New Mortgage Qualifications Mean Protection
While by no means the law on how these changes have reflected across those who work (and play) in B.C.'s housing market, observations from my own business have been mostly positive.
The first change I noticed after the new mortgage qualifications were released was an increase in home inspections. In the recent past, I witnessed too many of my clients foregoing home inspections in an attempt to win a bidding war. With so many people vying for the same property, some clients waived a home inspection altogether, while others did a "rush job" during a walk through. This never sat well with me and I'm happy to see home inspections no longer being treated as a courtesy.
Along with increased protection for my clients, the new mortgage qualifications have also affected their psychological state. Because they have adequate time to think over an offer, my clients seem to be much more relaxed. This has also resulted in less impulsive buying behaviour, and far fewer regrets in the long-term.
A subject removal period is another point of contention the new mortgage qualifications seem to have smoothed. For example, if you made an offer this past June that contained conditions or subjects, the chances of it being accepted were very slim. These days, almost all of my offers have adequate time for subject removal. Perhaps it means a longer wait for seller and realtors, but it is certainly a bonus for any buyers.
B.C.'s Foreign Buyer Tax Causes Modest Drops
While the speed at which homes are being snatched up in Vancouver has certainly declined, the cost of housing has seen modest drops, if any. Yes, I have seen price drops for the first time in years. But as of present, they're still fairly insubstantial.
Despite this however, I have seen a notable change in the attitude of home sellers. Perhaps motivated purely by the psychology of how they think these new regulations are affecting the housing market, it's the first time in years I've seen my home buyers be able to shave off a few thousand dollars for repairs or other necessities. In the end, this is definitely a positive for the buyers out there.
A real estate for sale sign is pictured in front of a home in Vancouver, British Columbia. (Reuters/Ben Nelms)
Sorry, You're Overqualified
While largely having positive gains for my clients thus far, the new mortgage qualifications have also pushed many especially first time home buyers out of the market completely. Those who were fighting to compete in Vancouver's already out-of-control real estate market with its soaring housing prices, staggering cost of living, and laughably low annual incomes, now don't qualify at all, especially if they are putting less than 20 per cent for their down payment. And if housing prices don't come down soon, they never will unless they get their hands on a big sum of cash.
With the launch of the new B.C. Government Down Payment Loan coming in place on January 16th, it is still uncertain how borrowers would take advantage of this program. Will mortgage insurance premiums be higher as it is an unconventional source of down payment? which lenders will be on board and how will they calculate repayment of this loan in the application?
But most importantly, the program indicates that they have to already qualify for a high ratio, insured mortgage. If the clients don't meet the requirements of the stress test, the down payment loan would not allow them to go far enough and compete in this market.
"While not entirely optimistic about the future of Vancouver's housing market, I realise that all change brings growing pains with it."
This is where things get really interesting. Another surprising (and not at all positive) effect of these new mortgage qualifications has been the way it's ballooned the pool of competitors for low and medium price point homes. Those who previously qualified for a significantly higher-priced property and were putting less than 20 per cent down, have now been pulled down a tier for a lower price point property, but retain their ability to plunk down a larger cash deposit.
Essentially, they're overqualified for the segment of the housing market they're in but are forced to bid on the same properties as those sandwiched in the middle, causing a much larger pool of potential homebuyers for the same lower and medium price point homes.
While not entirely optimistic about the future of Vancouver's housing market, I realise that all change brings growing pains with it. As the new mortgage regulations and foreign buyer tax continue to change the milieu of Vancouver, I'll be busy pulling up my rain boots, digging in, and waiting patiently for the aftershock.
Follow HuffPost Canada Blogs on Facebook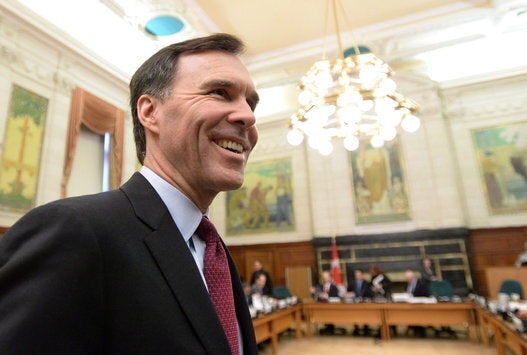 6 Possible Outcomes From Canada's New Mortgage Rules