Adam lives in Richmond Hill, Ontario and is a proud husband, father, ice rink builder and vegetable grower. He is a board member with the Richmond Hill Sports Hall of Fame and has served on the Richmond Hill Public Library Board. Professionally, Adam is a communications professional with diverse experience as a journalist, political media strategist and corporate business communicator. After graduating from the University of Ottawa, Adam worked for a number of media outlets, such as the Ottawa Citizen and 580 CFRA. He then worked for an MP on Parliament Hill, before Ontario Cabinet Minister Jim Watson (now Mayor of Ottawa) hired him as his press secretary at Queen's Park. Adam advised Minister Watson through various Cabinet portfolios. Adam was promoted to become Health Minister Deb Matthews' Director of Communications. Transitioning into the corporate marketplace, Adam served as the Senior Director of Communications with Food & Consumer Products of Canada. He then joined McDonald's Canada's Communications team. He led the External Communication team developing several award-winning communication campaigns, including the launch of All-Day Breakfast - the largest influencer and earned media campaign in McDonald's Canada history – and the book or toy Happy Meal program which recently won an award as the Best Creative PR campaign of the year. He is currently the Director of Corporate Affairs at Walmart Canada.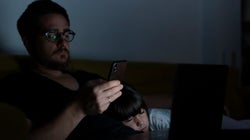 Westend61 via Getty Images
Chat apps create a safe space for dads to open up about parenting challenges.
SUBSCRIBE AND FOLLOW
Get the top stories emailed every day. Newsletters may offer personalized content or advertisements. Privacy Policy