Adam Vanzella-Yang is a PhD student in Sociology at the University of British Columbia, where he studies culture, sport and family life. He is a recipient of the Social Sciences and Humanities Doctoral Award. Originally from São Paulo, Brazil, he also studied in Toronto and London (UK) before moving to Vancouver. He can be found in his favourite coffee shops around the city or wandering about looking for the next soccer or volleyball pick up game.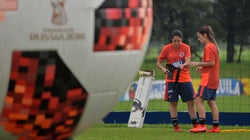 Diana Sanchez/AFP/Getty Images
Recognizing the excellence of pro women's soccer can spur progress at all levels of the game.
SUBSCRIBE AND FOLLOW
Get top stories and blog posts emailed to me each day. Newsletters may offer personalized content or advertisements. Learn more