Ailsa Bristow is a Toronto-based writer and workshop facilitator. She writes about culture, creativity, feminism, and the future of work, among other things. Her work has previously appeared in the F Word UK & Medium and she has published short stories in the Minola Review, Parenthetical and untethered magazine. Ailsa enjoys baking, knitting, and spending time with her partner and their highly-demanding but lovable cat. She can be found at ailsabristow.com or, infrequently, on Twitter.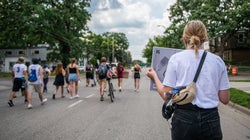 Brandon Bell via Getty Images
Let's not return to a broken normal or resign ourselves to a bleak future.
SUBSCRIBE AND FOLLOW
Get the top stories emailed every day. Newsletters may offer personalized content or advertisements. Privacy Policy