Alexis Dawson
Public education advocate
Alexis Dawson is a public education advocate, community organizer, school council chair and Diversity, Equity and Inclusion consultant in Toronto. She was appointed as Interim Trustee on the Toronto District School Board, where her work centred around equity of access to education for underserved communities, particularly Black communities in Toronto. She's a mixed-race (Black / white) cis woman, and the mother of two elementary school children.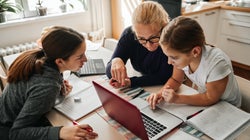 vgajic via Getty Images
The need for school reform is heightened, as students face exclusion from the pod system.
SUBSCRIBE AND FOLLOW
Get the top stories emailed every day. Newsletters may offer personalized content or advertisements. Privacy Policy