Amélie Quesnel-Vallée is an expert advisor with EvidenceNetwork.ca and the Canada Research Chair on Policies and Health Inequalities at McGill University.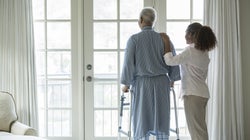 We should increasingly ask how much time and stress is expended by caregivers negotiating with medical and social care systems.
It's a good news story in many ways. Abolishing these user fees puts an end to an unfair and inefficient system where money or private health insurance allowed one to jump the queue and get in front of the line, regardless of whether they had more urgent medical needs.
SUBSCRIBE AND FOLLOW
Get top stories and blog posts emailed to me each day. Newsletters may offer personalized content or advertisements. Learn more