Amanda is a first-generation Iraqi-Canadian immigrant to a family of war survivors. She's usually found taking on a new project, city, or lifestyle that (sometimes) makes her mother anxious. Through her travels, she's come to appreciate how language can empower us to hear people, and she means, really hear them. Amanda is a French language teaching assistant in Quebec today and volunteers as a crisis responder with Kids Help Phone. She also writes for Thought Catalog and shares life on her personal blog Mondays with Manda. Chat with her on Instagram about all things teaching, mental health, travel, food, music, and faith.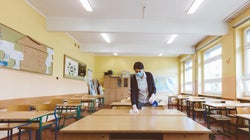 izusek via Getty Images
And we're happy you're back. Don't doubt it for a second.
SUBSCRIBE AND FOLLOW
Get the top stories emailed every day. Newsletters may offer personalized content or advertisements. Privacy Policy