Angus Andersen is an Inuk from Nain, Labrador. He is passionate about his Inuit heritage and history, and is an advocate in preserving the language through various community activities. Angus Andersen's "Inuk Word of The Day" on Twitter has passed the 18K follower mark. There, he writes an Inuk word, its translation, a definition or examples, along with English phonetic words for beginners to learn how to say the Inuk words properly. Soapstone carving teacher, partnering up with the St. John's Councillor Ian Froude at the St. John's Tool Library. His artwork can be found on Facebook with a page he calls "Andersen Arts." There, he helps beginners or carver wannabes the old-school style carving (hack-saw, files and sandpapers). Protester Angus started to speak publicly against the Muskrat Falls Hydro Electric project when then-premier Danny Williams was pushing the project. He stands proudly with the Labrador Land Protectors and Grand River Keepers fighting the mega-project. Angus created what he calls "Muskrat falls Water Bottles," which he presents to politicians and asks if they would drink water containing methylmercury.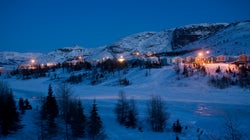 Chris P. Sampson/Nunatsiavut Government
We have learned what pandemics can do to communities not prepared for such events.
SUBSCRIBE AND FOLLOW
Get the top stories emailed every day. Newsletters may offer personalized content or advertisements. Privacy Policy