Ariel Martz-Oberlander is a theatre artist, community organizer and writer of Jewish descent, living on unceded Coast Salish Territories. Her work has won several awards, including the 2017 Mayor's Arts Award for emerging community artist from the City of Vancouver. She wishes to presence the work of Chanel Miller, Amita Swadhin, adrienne-marie brown, and the authors of Dear Sister edited by Lisa Factora-Borchers.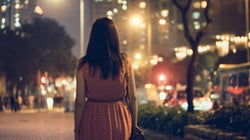 d3sign via Getty Images
While crowds can leave me sobbing, social distancing feels like a miracle.
SUBSCRIBE AND FOLLOW
Get the top stories emailed every day. Newsletters may offer personalized content or advertisements. Privacy Policy