Atong Ater is a policy analyst, producer and writer and has over 10 years of experience working in the public service. Born in Kenya, she came to Canada as a child where she developed a passion for science, sports and storytelling. Atong has produced a short documentary about a Sixties Scoop survivor and written, produced and directed a documentary exploring how a Toronto-based Amateur Athletic Union (AAU) Basketball team is helping young boys leverage their athletic abilities for post-secondary education opportunities. Atong holds a Bachelor of Science (Honours) in Neuroscience and a Master of Journalism from Carleton University, and between March and June can be found watching March Madness and NBA playoffs.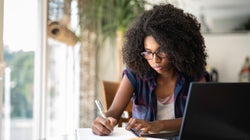 FG Trade via Getty Images
Equal access to education doesn't breed equal treatment for racialized high schoolers.
SUBSCRIBE AND FOLLOW
Get the top stories emailed every day. Newsletters may offer personalized content or advertisements. Privacy Policy