Carol Kuruvilla is an Associate Editor of HuffPost Religion. Prior to joining The Huffington Post, Carol was a reporter at the New York Daily News covering a range of topics. She started the Religion beat at the Daily News and continues to pursue her passion for religious issues at HuffPost. Carol graduated from New York University in 2011.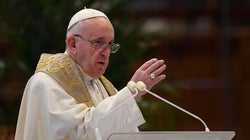 ANDREAS SOLARO via Getty Images
He says it would help achieve the Christian ideal of no workers without rights.
SUBSCRIBE AND FOLLOW
Get the top stories emailed every day. Newsletters may offer personalized content or advertisements. Privacy Policy