Christy Clark
Mom. MLA for Westside-Kelowna. Premier of British Columbia.
Christy Clark was sworn in for her second term as British Columbia's 35th Premier on June 10, 2013.

In her new mandate, Premier Clark has continued her relentless focus on strengthening the economy through the BC Jobs Plan, ensuring that government controls spending so British Columbians can invest in those they love. These efforts have resulted in BC leading the country in job creation and economic growth, with Canada's lowest unemployment rate and a record number of British Columbians working.

Premier Clark brought the anti-bullying "Pink Shirt Campaign" to British Columbia to raise awareness of issues related to bullying in our schools, workplace and communities.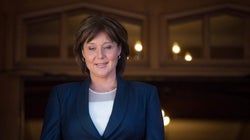 l was involved in politics for 25 years and saw plenty of frat boy behaviour.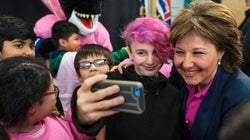 I'm often asked what we can do to reach true equality - a world where women and men were equally represented in everything from government to business. If I had to pick one single thing we could address, I'd say confidence. Simply put - men have it. Too often, women don't. On this International Women's Day it's important to celebrate and recognize successful women. Young women, girls need to see others succeeding in fields that traditionally have been dominated by men. It's important for young women to see other women in politics and government.
SUBSCRIBE AND FOLLOW
Get top stories and blog posts emailed to me each day. Newsletters may offer personalized content or advertisements. Learn more