Fae Johnstone (she/they) is a consultant, educator and community organizer on unceded, unsurrendered Algonquin territory (Ottawa, ON). She also works part time at Venus Envy Ottawa as a sex educator, and serves on the Strategic Advisory Council of the Ontario Centre of Excellence for Child and Youth Mental Health, and the Champlain Regional Planning Table for Trans Health. Her areas of expertise include LGBTQ+ and trans inclusion, child and youth mental health, sexual and reproductive health, and anti-oppressive education. All of Fae's work is driven by her passion to change the realities of LGBTQ+ youth and other marginalized communities. She brings to the table not only a passionate drive for change, but an approach informed by intersectional anti-oppression, structural social work, and lived experience.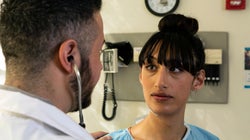 The Gender Spectrum Collection
Health providers repeatedly fall short of a gender-affirming model that helps kids thrive.
SUBSCRIBE AND FOLLOW
Get the top stories emailed every day. Newsletters may offer personalized content or advertisements. Privacy Policy