Born in southern Ontario, Gerry Veenstra received undergraduate degrees in Pure Mathematics and Sociology from the University of Waterloo and graduate degrees in Sociology from McMaster University. He is past holder of a New Investigator career award from the Canadian Institutes of Health Research, an Early Career scholar award from the Peter Wall Institute for Advanced Studies, a Senior Scholar career award from the Michael Smith Foundation for Health Research and a Killam Research Fellowship from UBC. Most of his research involves quantitative study of the ways in which social factors such as social class, gender and race and ethnicity are associated with health in Canada.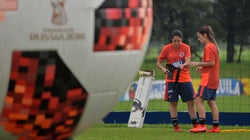 Diana Sanchez/AFP/Getty Images
Recognizing the excellence of pro women's soccer can spur progress at all levels of the game.
SUBSCRIBE AND FOLLOW
Get top stories and blog posts emailed to me each day. Newsletters may offer personalized content or advertisements. Learn more