Harman Singh is a Sikh Canadian parcharak (educator) for world renowned Sikh educational outlet Basics of Sikhi. An ex-Canadian Forces Combat Engineer, Harman also describes himself as a 'Social/Political/Human Rights Activist'. Harman Singh has toured and spoken at countless universities, colleges, Gurdwaras and events across the world in his role as a parcharak. He also has a degree in Kinesiology from Calgary University.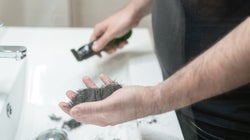 Cavan Images via Getty Images
Religiously worn beards have been subtly framed as an obstacle to the safety of COVID-19 patients.
SUBSCRIBE AND FOLLOW
Get the top stories emailed every day. Newsletters may offer personalized content or advertisements. Privacy Policy