Janaya Khan
lecturer, author, and co-founder of Black Lives Matter – Toronto.
Janaya Khan is the co-founder of Black Lives Matter - Toronto and the International Ambassador for the Black Lives Matter Network. They are a lecturer, author, and cultural critic who enjoys writing and speaking on queer theory, Black feminism, abolition and movement strategies. They have become a leading voice in the global crusade for justice and social transformation. Janaya has been honoured with multiple awards, including the 2015 Bromley Armstrong Human Rights Award and was named one of Toronto's Most Influential by Toronto Life in 2016. Their work has been featured on Al Jazeera, Mic, Flare, and The Root and is currently a speaker with Keppler Speakers Bureau.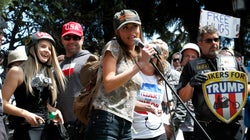 It has been so successful, in part, due to a lack of critical engagement of race relations in Canada.
SUBSCRIBE AND FOLLOW
Get top stories and blog posts emailed to me each day. Newsletters may offer personalized content or advertisements. Learn more