Since 2008, Jeff Perera has been working to build bridges of understanding across our oceans of difference: having spoken to tens of thousands of people across North America about gender, masculinity, empathy-building, and men helping end gender-based violence. Whether in the boardroom, on campus, or the locker room, Jeff works to help inspire new models of possibility for men and young men where we work, live, play, worship or study. Jeff has delivered two TEDx talks: 'Words Speak Louder Than Actions' looking at the power of gendered words, and 'The Ladder of Manhood' which explores the male pursuit of identity and how too many men are fluent in a language of violence. In 2011, he curated the first TEDxWomen event in Toronto. Jeff previously worked for the White Ribbon Campaign and Next Gen Men, as well as founded and curated the What Makes A Man conference from 2010 to 2014. From Rogers Media, Mackenzie Investments, University of Pennsylvania Klick Canada, Purdue University, and Canada Post, to numerous other organizations and campuses across North America: Jeff has delivered interactive talks for team leaders and groups of all genders, fields, creed and faiths. You can read written pieces, listen to podcast conversations, and watch interviews with Jeff over at HigherUnlearning.com, which is an online space exploring how limiting ideas of manhood impact us all in everyday life. Jeff's work is to help nurture brave spaces for real discussion, inspiring people to challenge our gendered ideas of success and failure, and to be the lesson in action. The way forward starts with us, within us.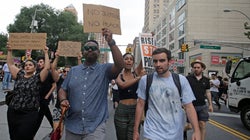 Andy Katz/Pacific Press/LightRocket via Getty Images
Here's how guys can learn to be better allies in the fight against racism.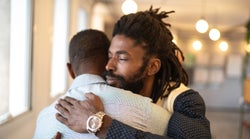 FG Trade via Getty Images
Men can re-learn new rituals and practices to normalize showing love.
SUBSCRIBE AND FOLLOW
Get the top stories emailed every day. Newsletters may offer personalized content or advertisements. Privacy Policy