Jenn Cox
Freelance journalist and mom
Jennifer Cox is a full-time work-from-home freelance journalist who loves writing about parenting, weddings, home decor, and anything crafty. When she's not writing, she's volunteering at her school's Breakfast Club or making papier-mache pinatas.
Cavan Images via Getty Images
It's all about setting limits.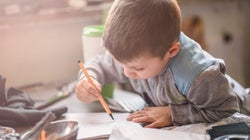 TeoLazarev via Getty Images
It was funny, at first. Then the paranoia set in.
SUBSCRIBE AND FOLLOW
Get the top stories emailed every day. Newsletters may offer personalized content or advertisements. Privacy Policy