Jenn Merritt
Canadian-American blogger, animal welfare advocate
Jenn Merritt is a Canadian-American blogger and animal welfare advocate. She holds a BA degree in psychology and spent 15 years as a professional dog trainer and animal behaviour consultant. Her favourite topics are politics, the human-animal bond, and all things Canada.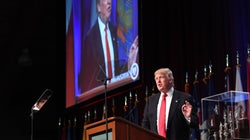 Matt McClain/ The Washington Post via Getty Images
I'm a Democrat, they're Republicans. Healing the political divide will be America's next challenge.
SUBSCRIBE AND FOLLOW
Get the top stories emailed every day. Newsletters may offer personalized content or advertisements. Privacy Policy