Jim Watson is the mayor of Ottawa. He has dedicated most of his career to public service in Canada's capital city. He was a former Ottawa city councillor (1991–1997) and mayor (1997–2000), as well as an MPP from 2003 to 2010. He served in the cabinet of premier Dalton McGuinty in Consumer and Business Services, Health Promotion, and Municipal Affairs and Housing. In 2010, he was elected Ottawa mayor again, followed by re-election in 2014 and 2018.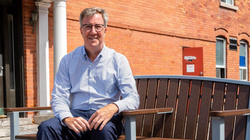 Jim Watson/Instagram
... as they say, "Better late than never."
SUBSCRIBE AND FOLLOW
Get the top stories emailed every day. Newsletters may offer personalized content or advertisements. Privacy Policy