Kamini Murthy-Korteweg is a Toronto-based writer, arts educator and administrator. They write about language, narrative and the power of people in creating more just and equitable societies. Kamini has moderated and coached with organizations such as Canadian Stage and the Ryerson School of Performance. Their favourite past times include songwriting, research and studying all things economics.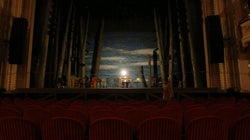 Steve Russell via Getty Images
We need audiences to show up for us more than ever.
SUBSCRIBE AND FOLLOW
Get the top stories emailed every day. Newsletters may offer personalized content or advertisements. Privacy Policy