Kiley May is a Toronto-based Hotinonhshón:ni Mohawk actor, writer and educator from Six Nations of the Grand River Territory. She has a recurring role as assistant pathologist River Baitz on the hit CBC show Coroner and appears in It: Chapter 2 (New Line Cinema), Woman Dress (National Film Board of Canada) and the upcoming Queer Haircuts For Everyone (Shaftesbury). Being an Indigenous transgender woman, Kiley is passionate about education, representation and diversity. As an emerging screenwriter and filmmaker, Kiley is working on creating scripts and roles for Indigenous and transgender women, focusing on positive, empowering and authentic portrayals.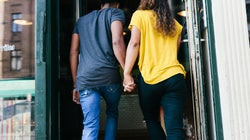 Hinterhaus Productions via Getty Images
What will it take for trans-attracted guys to overcome their unfounded shame and thirst for discretion?
SUBSCRIBE AND FOLLOW
Get the top stories emailed every day. Newsletters may offer personalized content or advertisements. Privacy Policy