Mustafa Elmanea
Human rights lawyer
Mustafa Elmanea is a father of four and currently resides in Tripoli, Libya. He is a graduate of law from the University of Benghazi. <br> Mustafa works as a lawyer and legal counsel for several Libyan and Foreign institutions and has acted on behalf of several human rights cases.
Members of the international community have issued a joint letter to the UAE President Sheikh Khalifa bin Zayed Al Nahyan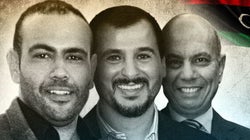 I became the lead defence counsel for several men of Libyan origin who were disappeared by the United Arab Emirates' (UAE) State Security Service (SSS) in 2014. I knew at the time that our position was a just one, but I didn't realize how much the fate of my clients would impact the conduct and reputation of nations.
SUBSCRIBE AND FOLLOW
Get the top stories emailed every day. Newsletters may offer personalized content or advertisements. Privacy Policy