Nandini Maharaj is a writer and human-animal bond researcher. Her work has been featured in several print and online publications such as Thrive Global. She has a PhD in Interdisciplinary Studies (Public Health & Counselling Psychology) from the University of British Columbia. Her work is aimed at supporting diversity and enhancing capacity for well-being and learning. She is a dog mom to Dally, Rusty, and Frankie.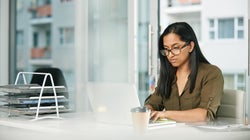 AJ_Watt via Getty Images
Racialized job applicants often contend with hiring practices designed to exclude them.
SUBSCRIBE AND FOLLOW
Get the top stories emailed every day. Newsletters may offer personalized content or advertisements. Privacy Policy