Philippe Lépine has worked for several news media - La Presse, Radio-Canada, L'actualité - and since 2015 has been covering the latest trends and news in food, health, fashion and beauty at HuffPost Quebec. Recipient of a Lizette-Gervais prize awarded by the FPJQ, he combines quality with personality in all his work. You can see him in the video series devoted to male beauty, "Belle gueule," or you'll surely encounter him at a new resto in Montreal. Follow him on Instagram @philippelepine.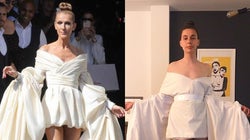 Maxence Garneau / Instagram
Social distancing just looks more glamorous on some people.
SUBSCRIBE AND FOLLOW
Get the top stories emailed every day. Newsletters may offer personalized content or advertisements. Privacy Policy