Phillip Dwight Morgan is a Toronto-based writer, essayist and poet of Jamaican heritage. His writings on race and politics have appeared in Maclean's, CBC, the Toronto Star, the Walrus, as well as in Briarpatch and Spacing magazines. You can find him on Twitter at @philldmorgan.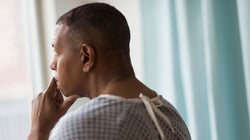 Tetra Images via Getty Images
Here's why I no longer use the phrase.
SUBSCRIBE AND FOLLOW
Get top stories and blog posts emailed to me each day. Newsletters may offer personalized content or advertisements. Learn more