Shoshana Sperling has a repertoire of 1000 voices and has thrilled Toronto-area audiences with her solo monologues for years. She conceived of, co-wrote and performed two CD's for children with her band The Monkey Bunch entitled "Sho, Mo and the Monkey Bunch" and "Power to the Little People" which was nominated for a Juno. As freelance writer, Shoshana has written for the National Post, Now Magazine, Elephant Journal and is a regular contributor to Today's Parent Magazine and Chatelaine Magazine. Most recently she has produced and performed in a monthly Cabaret at the Burlington Performing Arts Centre called "Feel The Burl" with her writing partner, Lisa Brooke. Shoshana is a cartoon voice actor on many shows that your kids are watching as you read this.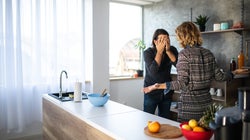 miodrag ignjatovic via Getty Images
For a little while, it all almost felt normal.
SUBSCRIBE AND FOLLOW
Get the top stories emailed every day. Newsletters may offer personalized content or advertisements. Privacy Policy