Steacy Easton has written for Pitchfork, Spin, the Globe and Mail, the National Post, CBC, Atlantic Online and several others. They have degrees from Trinity College, University of Toronto and Concordia, in Montreal. They have shown visual work in Toronto, Edmonton, New York, Hamilton and Chicago. They have a book work in the library of the National Gallery of Canada.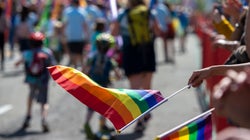 Jason Cameron via Getty Images
Fort Saskatchewan, Alta. cannot imagine a Pride whose politics are disruptive.
SUBSCRIBE AND FOLLOW
Get top stories and blog posts emailed to me each day. Newsletters may offer personalized content or advertisements. Learn more