Syrus Marcus Ware
Vanier scholar, visual artist, activist, curator and educator
Syrus Marcus Ware is a Vanier scholar, visual artist, activist, curator and educator. Syrus uses painting, installation and performance to explore social justice frameworks and black activist culture, and he's shown widely in galleries and festivals across Canada. He is part of the Performance Disability Art Collective and a core-team member of Black Lives Matter – Toronto. He has won several recognitions including the TD Diversity Award 2017, "Best Queer Activist" NOW Magazine 2005, and the Steinert and Ferreiro Award 2012.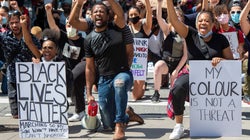 THE CANADIAN PRESS/Frank Gunn
Our battle is the same now as it was 50 years ago.
SUBSCRIBE AND FOLLOW
Get the top stories emailed every day. Newsletters may offer personalized content or advertisements. Privacy Policy