The School of Life is devoted to developing emotional intelligence. We address such issues as how to find fulfilling work, how to master the art of relationships, how to understand one's past, how to achieve calm and how better to understand, and where necessary change, the world. Headquartered in London, we operate around the globe, delivering our services down a number of channels to suit your different needs. We offer classes and therapies in person. We also publish books, create films and make and sell a range of objects & tools that will assist you in the quest for a more fulfilled life. We also run a consulting and training service for businesses.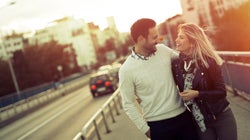 nd3000 via Getty Images
The only thing determining whether to stay or leave is how we feel.
SUBSCRIBE AND FOLLOW
Get top stories and blog posts emailed to me each day. Newsletters may offer personalized content or advertisements. Privacy Policy