Tobias Finger is a social scientist and journalist living in Berlin. He studied in Düsseldorf, Prague, Vancouver and Berlin. His work is concerned with inequalities in sports and urban spaces as well as the social and political dimensions of sports. When he is not typing away on his laptop you'll catch him riding his bike through the German capital or wherever there's something new and exciting to explore.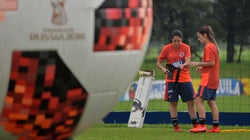 Diana Sanchez/AFP/Getty Images
Recognizing the excellence of pro women's soccer can spur progress at all levels of the game.
SUBSCRIBE AND FOLLOW
Get top stories and blog posts emailed to me each day. Newsletters may offer personalized content or advertisements. Learn more