Dr. Travis Bradberry is the award-winning co-author of the #1 bestselling book, Emotional Intelligence 2.0, and the cofounder of TalentSmart, the world's leading provider of emotional intelligence tests and training, serving more than 75% of Fortune 500 companies. His bestselling books have been translated into 25 languages and are available in more than 150 countries. Dr. Bradberry has written for, or been covered by, Newsweek, BusinessWeek, Fortune, Forbes, Fast Company, Inc., USA Today, The Wall Street Journal, The Washington Post, and The Harvard Business Review.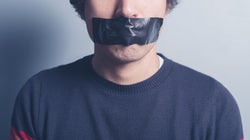 lolostock via Getty Images
If you think that you can use these phrases without consequence, you're kidding yourself.
SUBSCRIBE AND FOLLOW
Get the top stories emailed every day. Newsletters may offer personalized content or advertisements. Privacy Policy