Umar Zulqarnain is a Writer, Lawyer, Entrepreneur, and Human Rights Activist. Umar lives in Toronto, Canada and regularly contributes to a number of magazines and newspapers. Umar Zulqarnain holds a Bachelor of Commerce in economics and management science from the Ted Rogers School of Management. He also has a J.D. from the University of Minnesota Law School.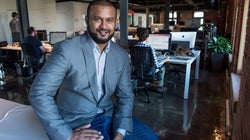 It is the largest technology venture-capital financing deal in Canada since Hootsuite raised their $165-million Series B round in 2013.
Building and managing a world-class supply chain is difficult regardless the economic climate. Transporting goods quickly and efficiently is a complex task that requires coordinating and managing a number of variables within a fast-paced and volatile environment.
SUBSCRIBE AND FOLLOW
Get the top stories emailed every day. Newsletters may offer personalized content or advertisements. Privacy Policy