Stephanie Vermillion is a travel writer and blogger based in New York City. Her writing has been published in outlets like Mental Floss, MSN, Matador Network and Travelettes, and she is a contributing author to Thought Catalog's travel book, "Let's Get Lost." Stephanie is also a member of the Society of American Travel Writers, and runs road trip travel blog, The Wanderlost Way. Connect on Instagram (@TheWanderlostWay), Twitter (@WanderlostWay) and YouTube.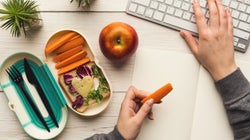 Prostock-Studio via Getty Images
Tricks to maintain a good food routine while you're working remotely during the coronavirus outbreak.
SUBSCRIBE AND FOLLOW
Get the top stories emailed every day. Newsletters may offer personalized content or advertisements. Privacy Policy