Getty Images
I have a confession to make. As I write this, I am no longer in Rwanda. I am actually in my favourite coffeeshop back in Toronto, Canada. It has been more than three weeks since I was in Rwanda -- and much, much longer since I wrote a blog post.
My excuse:
Working 11+ hours a day Monday through Friday and trying to see and experience a country on the weekends doesn't leave much time for blogging regularly. But the lovely people on HuffPost's blog team have allowed me to continue posting my thoughts and reflections on my experience here in this space, so continue I shall.
In this post I want to take you back to some of the most memorable stories I did while in Rwanda. Remember, I was working as a reporting intern at a commercial radio station in Kigali, Rwanda's capital. These are in no particular order.
1) Covering President Clinton -- a.k.a. the Magical Mystery Tour
In July, former U.S. president Bill Clinton did a whirlwind tour of Rwanda promoting a few development projects supported by his initiatives. The first was a cancer treatment centre in Northern Rwanda -- the only centre of its kind in rural East Africa. The second was a partnership project between medical professionals from U.S. Universities and Rwandan medicine professors launched at a nursing school in Rwanda's Eastern Province. You can read the speech he gave on the second day here.
I call this experience the "Magical Mystery Tour" because I think President Clinton possesses magical powers. Each time he speaks it's like a magic show! He appears mysteriously, hypnotizes the entire audience (with a largely ad-libbed speech, or so I'm told), and leaves just as quickly with a smile and a wave while the audience stares on in sheer admiration.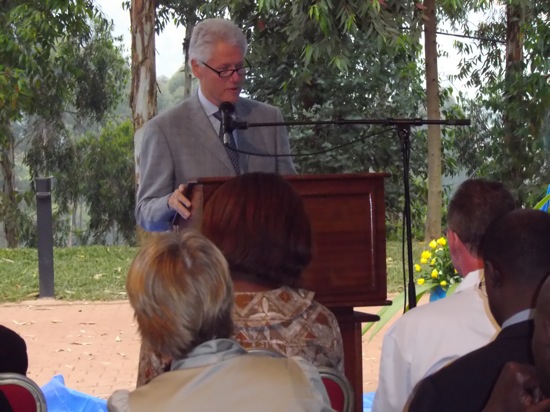 President Clinton addresses the crowd in Northern Rwanda. Photo Credit: Yamina Tsalamlal
It was really cool for me to get so close to President Clinton and other high-profile guests like the Rwandan President Paul Kagame, Chelsea Clinton, and racecar superstar Jeff Gordon. But covering these events as part of the local media was also a real eye-opener. Though we were given transport to the events by the government, we weren't given much access once we arrived. Interview time was not set aside for the press with the any of the speakers at either event and we had to wait around a lot (for six hours on the second day!) before the main programs began. Both events included tours of the development projects being celebrated, but local press were not invited to participate. In short, we weren't given much room to do anything other than straightforward press release stories -- which was frustrating for someone who has been taught to "always go beyond the press release."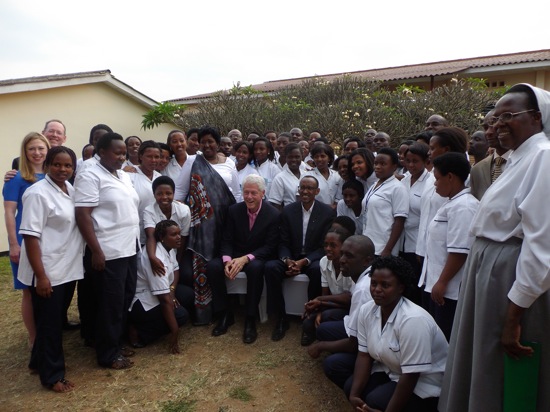 The VIP guests in a photo op with nursing students and staff in Eastern Rwanda. Photo Credit: Yamina Tsalamlal
Still, just being invited to cover the events was a real thrill for me, and it gave me a great chance to see more of the country and get to know more Rwandan journalists.
2) eUmuganda -- Taking Community Service Online
This event was the undertaking of Kigali's kLab. The kLab is an open innovation space for web developers and tech worshipers in the heart of Rwanda's capital. The event was inspired by Umuganda, a nation-wide day of community work and neighbourhood cleanup that happens monthly in Rwanda. eUmuganda took that idea and fused it with tech innovation, inviting Rwandan youth to serve their communities with laptops instead of their shovels.
July's eUmuganda goal was to begin mapping Kigali City using open source online software called OpenStreetMap.org. The goal is for these maps to enable young developers to create more location-based apps for the benefit of Rwanda's population, (i.e. apps that help people find their nearest ATM, or gas station). The hosts told me that using Google maps data for these types of apps is often too expensive for most young developers, so using open source software really made sense.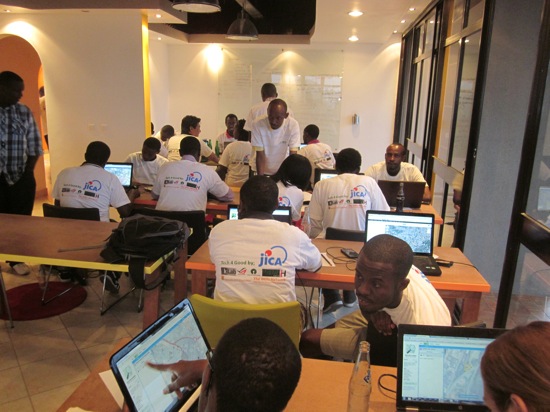 eUmuganda gets underway at kLab. Photo Credit: Susan Lister
The participants were grouped according to their neighbourhood, and began pointing out their houses, cornerstores, community attractions and workplaces. I even pointed out a favourite corner store and bar in my village, Kacyiru.
I visited kLab a few times during my trip, and it always left in amazed and humbled. The ideas coming out of the members and mentors at kLab give you the sense that Rwanda's future is in very good hands. I really hope these young people are given the support and access they need to bring those ideas to life.
Participants and leaders at the first ever eUmuganda. Photo Credit: Susan Lister
3) Real-Talk with Raquel Rolnik -- Interviewing the UN Special Rapporteur on Adequate Housing
Meeting Raquel Rolnik was another humbling, inspiring experience. I won't write out her entire bio, but you can find it and her picture here. This summer marked Rolnik's first official visit to Rwanda, Africa's most densely populated country. Adequate housing with access to basic services like clean, running water continues to be issue in the country, though the government has made this a top priority.
In Rwanda, reporters will often wait until these visiting officials give a press conference to report on their visit (probably because there are so many visiting all the time!). But for someone like me, with a limited pool of English-language interviews to chase on any given day, these international sources were crucial, so I jumped on the story fast.
I was lucky enough to score an exclusive interview with Rolnik about her fact-finding tour and impressions of housing policy in Rwanda. I was so impressed by her honesty, knowledge, and passion. I left the interview totally star-struck! Rolnik is an independent expert, and from what I saw, she uses that power to the fullest by not shying away from tough criticism where it is due.
When my colleague and I attended her press conference later in the week, he said he too was impressed by Rolnik's honesty. He said she was "not like the others" because she was willing to publicly state her criticisms as strongly as her praise. Apparently, visiting officials are not always so upfront in their assessments. They often prefer to give rosy outlooks of Rwanda's progress and hold off on deeper, critical analysis when speaking to the local press.
For me, the proof was in my colleague's eyes -- until that point, I had never seen him so engaged in a press conference.
These were just a few of the cool reporting opportunities I had while in Rwanda. Each story I did taught me more about the country and the Rwandese people and fascinated me in it's own way.
Despite my comments above about the lack of access during Clinton's visit, I should add that I had almost the opposite experience in my daily reporting in Rwanda. I was shocked by the amount of access I had to important Rwandan sources. In my two months there I interviewed Opia Mensah Kumah, the UN resident coordinator, Victoria Akyeampong, the resident representative of the UNFPA, and had a great conversation with the country's auditor general, Obadiah Biraro, to name a few.
All of these people were so generous with their time, and I will always be grateful for these experiences.