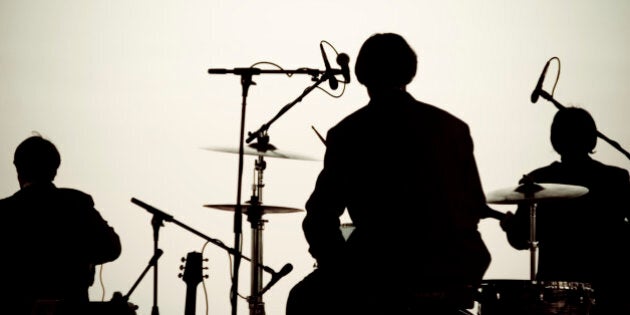 I have been to the Air Canada Centre (ACC) countless times for sold out sporting events and big ticket concerts. Never have I experienced mayhem in the hallways like I did at Sir Paul McCartney's sold out Out There tour in Toronto.
Once everyone passed through security, crowds were forced to squeeze together into the ACC corridors. No one could move an inch and people were not initially allowed to go to their seats. This is not a typical venue scenario. I had to push my way to gate 101 like an NFL player scrambling to recover a fumble. As it turns out, McCartney's sound check was running late so the start of the show and seating was delayed by half an hour. A security guard told me that "when Paul McCartney says to wait, we wait."
After wolfing down a $7.00 slice of not-so-gourmet pizza, I made my way to my seat. I was surprised to find myself sitting beside Dan Kanter, Justin Bieber's guitarist, and his brother. We were all excited for the show to begin. Even though I didn't experience Beatlemania firsthand, I know many Beatles songs (thank you Beatles Rock Band and many of my family's Beatles jam sessions).
For over two hours, McCartney serenaded the crowd with fan favourites such as "Back in the USSR," "Eleanor Rigby" and "Eight Days a Week," as well as a brief selection of fairly recent releases such as "FourFiveSeconds" and "Here Today." He alternated between guitar and piano throughout the night and told the audience interesting anecdotes from a rich Beatles' history. The guitars on stage, for example, were used in the studio for some original 1960s recordings.
According to setlist.fm, the show included over 40 songs. Though he was losing his voice and jokingly admitted to making a few mistakes, McCartney still goes hard.
To the delight of a few lucky audience members he brought some fans on stage, including an Ontario couple celebrating their 35th anniversary, as well as a mother and daughter who are devoted fans. As the show was coming to a close, we cheered him on for an unforgettable two rounds of encores that included a medley of six songs and lasted over half an hour.
The concert was a musical event I will never forget. I enjoyed singing along to classic hits such as "Hey Jude," "Imagine," "Blackbird" and "Yesterday." Though I never saw The Beatles perform live, I was thrilled to have the opportunity to see Sir Paul McCartney and his band. This is a show that should not be missed. It is an unforgettable performance from one of the most famous and personable musicians of our time.