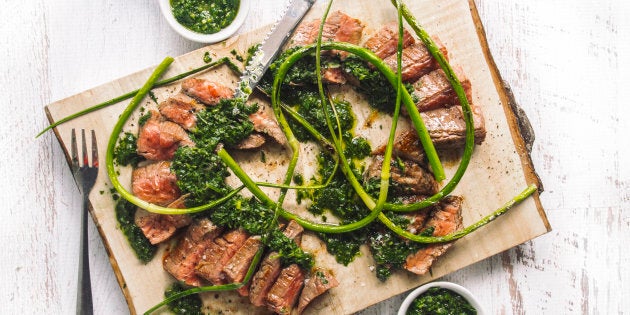 Summer entertaining season is here and while burgers and hot dogs are great for every day eating, when you have friends over it's time to step it up and serve steak.
Serving steak at a summer dinner party is the right thing to do for a few reasons:
1) You make friends with steak. No one ever walked home and raved about a hot dog. Steak is decadent and shows friends that you care to serve them something a bit special. And if you know how to cook steak properly everyone will rave about your skills for years.
2) It's selfishly good for the cook as you can focus on one thing rather than expertly timing when burgers vs hot dogs vs sausages will be ready. For a group of 6-8 people buy two flank steaks, roughly the same size and focus your attention on cooking it perfectly. It requires much less effort and to serve you can slice it thinly and serve it on a platter with a great salsa verde.
3) We all have that one friend or family member who insists meat should be overcooked to well done. With sliced steak it's easy to serve everyone what they want. You can simply take few slices and throw it back on the barbecue while everyone else enjoys delicious medium rare meat.
I'm fortunate that I live with a chef who has very strong feelings about cooking meat. I've learned most people over complicate steak but over the years I've learned a few simple tips that every home cook should follow:
Buy it from the experts, go to a butcher shop to buy high quality meat.
Marinate it one day in advance with a simple mixture of 1/4 cup canola oil and 2 tbsp red wine vinegar. Do not add salt or pepper.
Take it out of the fridge 30-40 minutes before cooking to bring it to room temperature.
No need to use "steak spice" simply liberally season with kosher salt before grilling. Do not use black pepper, remember it's a berry and if there's a flare up it will burn.
Use a temperature probe to cook the steak to 10 degrees less than the desired temperature. You want to account for "carry over" cooking time as it rests.
Rest it for 10 minutes covered with aluminum foil.
Just before serving flash it on the grill to warm it back up. Don't worry you are not undoing all of the resting time.
Use a sharp knife to cut slices against the grain.
Season with finishing salt like Maldon or grey sea salt along with freshly ground black pepper.
Salsa verde is an Italian fresh green herb sauce, very similar to chimichurri in Argentina and pistou in France. You can make it quickly in a food processor and it is a perfect fresh condiment for well cooked steak.
Want more chef tips on how to throw a summer dinner party? Check out our free summer entertaining guide with a full menu of recipes, shopping list and what to make in advance so you can actually enjoy the party.
Follow HuffPost Canada Blogs on Facebook