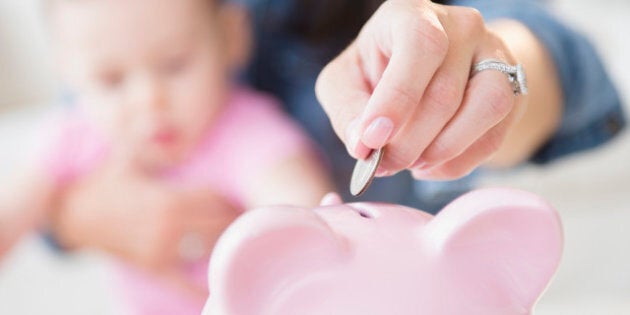 Sleep deprivation. Endless laundry. Drained bank accounts. Parenthood is nothing if not good for clichés! There's not much that can be done about sleep and laundry, but fortunately, there are lots of ways to soften the blow to your wallet when a new baby comes along.
Adjust your spending -- and expectations
You can start to prepare as soon as you've got that positive pregnancy test -- or sooner!
Personal finance guru Gail Vaz-Oxlade has helped countless new parents solve their financial woes. She suggests that couples learn to live on the income they'll have while they're not working during maternity or parental leave. "If your income will drop by $250 a week while you're on mat leave, take that $250 and slide it into a savings account while you're both still working. You'll get used to living on less so you're prepared for the change in income. And you'll be building a nice emergency fund for those just-in-case situations."
This not only makes the financial transition easier, but helps you adjust your lifestyle expectations. Getting into more frugal habits early in the pregnancy will mean one less major adjustment once your bundle of joy makes his or her debut. Think Netflix at home instead of going to the movies, and board games with friends instead of restaurant dinners. It's natural to want to take advantage of your remaining months of freedom and couple-only time, but it's also wise to get ready for life with less disposable income.
Avoid consumer credit at all costs
Whether it's getting started on decorating the dream nursery or one last pre-baby holiday, there are all sorts of reasons why expectant parents start racking up charges. Gail says "there are just as many dumb daddies are there are moronic mommies. But there is most certainly an impact on the whole family when the financial duckies aren't all in a row. Most often people turn to consumer credit -- their credit cards and lines of credit -- to fill the gap in their cash flow from their lack of planning." This is especially disastrous because once the family's income level resumes, they have to deal not only with the debt they've amassed, but also the added expense of childcare.
Gail's number one money tip for new parents is to buy used... "everything if you must. There are loads of places where you can get stuff for pennies on the dollar. But before you lay out a cent, tell all your friends and family what you'll need and see what people have stored in boxes. It's amazing how much stuff people have tucked away. Use up what's there before hitting any stores, even second-hand ones."
If you've never been to a kids' consignment shop, you might be surprised at the good quality and quantity of gently-used clothing and gear that's available. Kijiji, Craigslist, and eBay are also great sources for baby gear. And who knows -- if you take good care of your purchases, you may be able to sell them later for a little extra cash!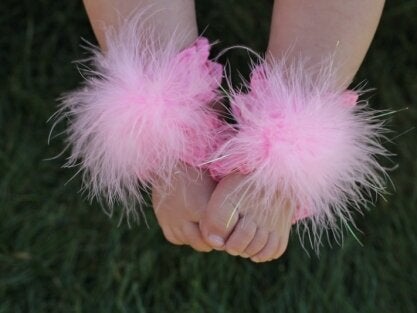 Seriously Ridiculous Baby Products