What's the first thing that comes to mind when you think of "dangerous baby products"? PBA plastic bottles? Toys with small, chokeable parts? Flame-retardant clothes? The obvious list of culprits is long. But the reality is some commonly used products are unsafe for infants, too. Despite the fact they aren't all rigorously tested and don't always meet Canadian government safety standards, these items can still be found on store shelves, given as hand-me-downs or sold in consignment shops and at garage sales. They make babies vulnerable to injury and can even cause fatalities.
Why avoid it? Your wee one can sit upright (and be contained) in a tub thanks to this invention but you run the risk of having it tip over. The suction cups at the bottom, meant to secure the seat, don't always work. A child can fall over, get trapped and drown--in an inch of water. Remember, never turn your head or leave your child unattended when they are in the bath.
Safe alternative: Baby bathtub
Hazard: Bumbo Floor Seats
Why avoid it? This cool, comfy, contoured chair may give mom and dad a false sense of security when they're feeding, reading to or playing with baby. An infant can fall out of the seat by leaning, arching or rocking herself and risk injury. Don't place the seat on tables, counters, beds or adult chairs.
Safe alternative: Swing or baby activity centre
Why avoid it? This popular crib design enjoyed its heyday with consumers for years until it came under scrutiny and millions of cribs were recalled. They are now illegal in Canada but can still be found at garage sales and the like. The drop side rail can become loose due to faulty hardware, detach and create a gap between the mattress and side rail where a baby can potentially get trapped.
Safe alternative: Crib with fixed sides
Why avoid it? Health Canada cautions parents against using crib bumpers because the padding and ties can cause suffocation and strangulation. Baby's head can get caught between the pad and side of the crib. Also, once a child is old enough to pull himself into a standing position, he can use the pads to crawl out of the crib.
Safe alternative: Nothing in the crib but baby
Hazard: Sleep Positioners
Why avoid it? Sleep positioners are flat or wedge-style mats, flanked by bolsters on either side that prevent infants from rolling onto their stomachs and reduce the chances of SIDS. But their risk doesn't outweigh their benefit: they are also a suffocation hazard if the child presses its face against the sides or gets caught between the product and the side of the crib. Even sleep positioners made with meshing and airflow fabric are still dangerous as they can cause smothering.
Safe alternative: Place baby on his back
Why avoid it? Plush, monogrammed blankets and silk pillows look adorable in a nursery but they're for decorative purposes only. An infant could get smothered by a pillow and tangled in a blanket and be suffocated. Blankets should be designated for tummy time exercises.
Safe alternative: Sleep slack, swaddler or footed onesie
Why avoid it?There is no evidence to support the theory that walkers teach kids how to walk. What they do, however, is give toddlers the increased mobility to access danger zones like stoves, stairs and tables. Many accidents happen under the watchful eye of adults who can't respond fast enough--a tot can move three feet per second wheeling around in a walker.
Safe alternative: Baby activity centre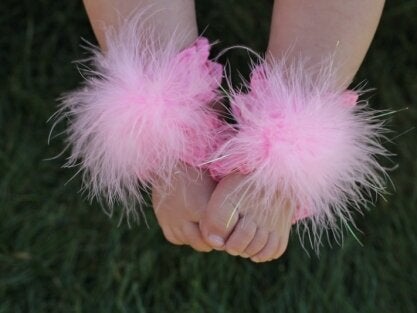 Seriously Ridiculous Baby Products