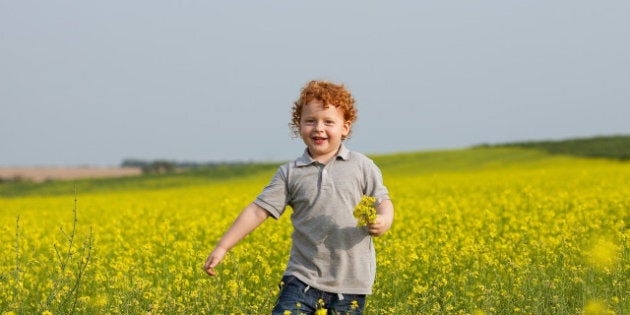 Certain baby names are timeless, and what better way to honour tradition than by considering the Irish baby names that have proven themselves for generations. True, it's only recent that Irish baby names have become "hip," but when the novelty wears off, Irish baby names will still maintain an air of distinction.
1. Michaela: The girl's form of "Michael," it boasts various spellings that still evoke the strong, classic aspects of this perennial favourite. In terms of Irish baby names, either "Michaela" OR "Michael" are perhaps the ones you've heard before.
2. Ailbe (pronounced all-bay): A name that works for either gender, "Ailbe" comes from the old Irish word for "white," as well as the saint who blessed a river with fish, feeding countless residents who lived in County Tipperary.
3. Fiona: "Fair" and "beautiful" are just two of the words that define Fiona, the feminine form of "Fionn." It's not just for Cameron Diaz as Princess Fiona anymore.
4. Oona: The name "Oona" comes from "lamb," or even from the Latin word for "one" which can be translated into "unity." Irish legend sees Oonagh (pronounced the same) dubbed the "Queen Of The Fairies" who was married to Finn Mac Cool.
5. Saorise (pronounced sear-sha): Translated into "freedom" and "liberty," Saorise is an Irish baby name that's yet to see the mainstream in North America. Likely because it came to prevalence in the 1920s, "Soarise" is currently gaining prominence overseas.
1. Conor: Simple and classic, if you've been scoping out Irish baby names, you've no doubt already come across this one. Gaelic for "hound lover," its traditional spelling is "Concobhar," so if you want to make a unique impact, you can negotiate the way it looks on paper.
2. Ciaran: Named after two patron saints, "Ciaran" is pronounced as "Keer-an," and also translates into "black." Evidently, it's been around since the fifth century, so you certainly don't have to worry about this Irish baby name going out of style.
3. Ronan: The name of a king (The King of Leinster, to be specific), Ronan also means "little seal" and is of Gaelic origin. As of a few years ago, it was still relatively underground (for a North American baby name), but considering it's maintained centuries of longevity, you can't help but think we'll be seeing more boys named Ronan in the near future.
4. Padraig: You've heard it as "Patrick," but you probably haven't heard that "Padraig" is the national name of Ireland. From the Latin word for "noble," it's the name of kings -- so the perfect Irish baby name if you're hoping to have a "regal" son.
5. Jack: "Jack's" popularity soars by the year, and that's probably because it's a form of "John" -- a hugely popular name since most of us (and our parents and grandparents) can remember. In Hebrew it means "God has favoured" and various forms include Eoin, Seon, Shuan, Shawn and Shane.