 1. You may not get pregnant the first month you decide you are ready for a baby
Women spend so much time ensuring they are protected from getting pregnant that many assume that once they are ready they will get pregnant right away. This is often not the case, in fact, in general there is only about a 20 per cent chance of getting pregnant each cycle. Combine that with a body that is possibly re-adjusting to life without hormones from the birth control pill or shots, and it is easy to see why getting pregnant can take a little time. Don't stress, the vast majority of women get pregnant within six to 12 months of actively trying.
2. You should begin taking prenatal vitamins before you begin trying to conceive
A fetus starts developing major organs before many women know they are pregnant. When a woman is about four weeks pregnant, her baby, or blastocyst as they are called at this time, is beginning to develop their neural tube. By five weeks the heart, stomach, liver and kidneys are forming. It is for this reason that women trying to conceive should be taking prenatal vitamins containing at least 1000 mg of folic acid.
3. You are more likely to have twins if you are tall
While multiple fetus pregnancies have been on the rise, most are due to fertility treatments. A woman is far more likely to have twins if she is taking fertility drugs or using In vitro fertilization (IVF) due to the fact that more eggs are being released and/or implanted. However, there are also many genetic factors that can lead to multiple births. A woman is more likely to have twins if she is over the age of 35, has a history of twin pregnancies, has twins running in her family, or is tall.
4. Most women don't get morning sickness
The bad news is, most get more of an all-day sickness. Around week six of pregnancy, the hormones are kicking into full gear and so is the nausea. While a lucky few women escape sickness all together, most experience "morning sickness" to some degree. Good news, many women feel nauseous without actually getting sick. Many experts believe that sickness subsides between twelve and fourteen weeks when the placenta begins producing hormones on its own.
5. You should give into (most) of your pregnancy cravings
Cravings during pregnancy are one of the most common symptoms. Many believe that cravings during pregnancy are your body's way of telling you that you may be lacking a certain nutrient or vitamin. For example, a woman craving an ice cream sundae may be lacking calcium. So, go on give into to your craving! There is, however, a time when you should not give into your cravings. There is a rare disorder called Pica, in which women crave unhealthy, even unsafe products such as paint or wood.
6. You may not "feel" pregnant during the second trimester
Many women spend the first trimester sick, exhausted and counting down the days until the long-awaited second trimester. Gone is the morning sickness and trips to the bathroom every five minutes (at least until the third trimester), and hello 10 p.m., haven't seen you in awhile, your energy has finally returned! You should not worry when all your early symptoms disappear even though you might not feel pregnant. The second trimester is generally regarded as the most enjoyable of the three. Plus, another bonus of the second trimester, you begin to look pregnant and get to feel the long awaited first kicks.
7. You only need about 300 extra calories
Eating for two? Not quite. It is important to eat healthy and not diet or cut calories during pregnancy, but experts tend to agree that only an extra 300 calories a day is required during the second and third trimester. The calories could come in the form of cheese, crackers and an apple, or a banana and some peanut butter. Putting on too much weight during pregnancy can cause problems for you and your baby, not to mention make it that much harder to lose the baby weight afterwards.
8. Your baby can give you butterflies, in more way than one
You may have had butterflies since the moment you first saw a positive pregnancy test, but sometime around week 20 your baby may be giving you a different type of butterflies. Your baby starts moving around very early on in your pregnancy; however, those movements are not strong enough to be felt until around the halfway point. While you may be awaiting the first kicks, some women miss what is often described as "butterflies" or "flutters" that prelude more concrete kicks.
9. You shouldn't worry about your water breaking in public
Pregnancy is a time of joy, anticipation and excitement. It can also be a time of fear, stress and anxiety. Since you first discovered you were pregnant you have probably been imagining (and possibly dreading) labour and delivery. Having your water break in in public is a common fear. However, in the majority of women, it is much more likely for your water to break once labour is in full swing, after some heavy contractions. In some women, their water never breaks on their own and must be broken by their doctor.
10. Only about 5 per cent of babies are born on their due date
You will spend your entire pregnancy counting the days until you get to see your baby's sweet, little face. However, like many women, especially first time mothers-to-be, you may continue to wait well past your due date. While pregnancy is generally considered to last for 40 weeks, most first time pregnancies average just over 41 weeks, some longer. Doctors may decide to induce a labour that has not started spontaneously, generally between 7-14 days after the due date, unless a medical reason exists.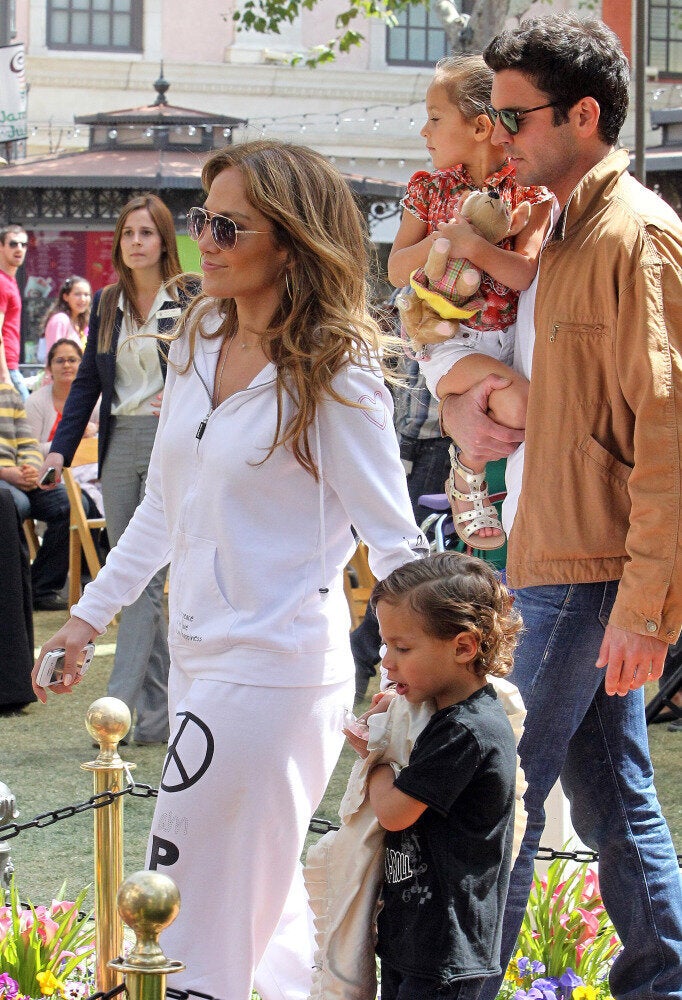 Celebrity Kids: Out And About