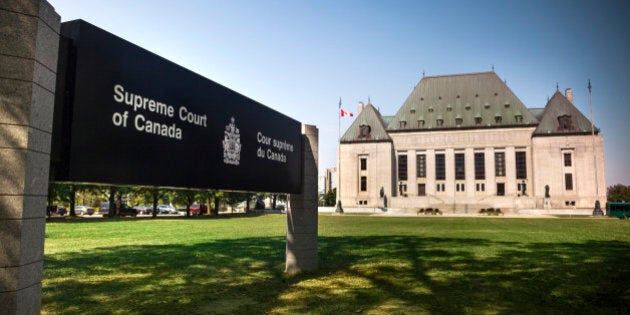 For the most part, Canadians are a kind and polite people. We help each other, we donate to causes, we rally against injustice and we mind our manners. But our weakness is that we often believe things are better than they actually are.
For one, we're loathe to admit that bestiality happens in Canada and often coincides with child sexual abuse. Recently, there have been three high-profile cases involving the sexual abuse of animals and children in Canada. The link between these two crimes has been confirmed again and again yet, in our attempts to get this on the radar screen of the Canadian legislature, we've heard nothing but crickets. Thanks to a recent Supreme Court of Canada decision, our laws on bestiality are now weaker than they've ever been.
In June 2016, the Supreme Court of Canada ruled 6-1 that Criminal Code charges of bestiality require the element of penetration -- meaning the highest court in the land believes that any sexual exploitation of animals which does not include penetration does not meet the legal test for bestiality under our current laws. That creates a dangerous loophole for animals and those who exploit them. The Supreme Court also passed the buck on fixing this loophole by inviting Parliament to broaden the legal definition of bestiality if they saw fit to do so.
Meanwhile, we continue to see horrific bestiality cases crop up, which show just how vulnerable Canada's animals are. A truly sickening case has recently been wending its way through the courts in which a man and two women in Barrie, Ontario sexually assaulted young children and two species of animals. The main instigator, Shayne Lund, is now being considered for dangerous offender status.
Animal welfarists are very concerned about what the newly-created bestiality loophole will mean for Canada's animals in the months and years to come.
The bestiality case at the heart of the recent ruling, which rose to the Supreme Court through the B.C. Court of Appeals, is a disturbing and disheartening one. The offender, known only as D.L.W. due to a publication ban, is serving a 16-year jail sentence for sexually assaulting his stepdaughters for almost ten years. In four of the assaults, the family dog was also involved.
During the original trial in B.C., the judge found D.L.W. guilty of bestiality despite the fact that (a) no penetration had occurred, and (b) there was no physical evidence that the dog had been harmed. In his judgment, Justice Romilly wrote, "Physical harm is not an essential element of bestiality. Members of our society have a responsibility to treat animals humanely."
It was an exciting day for animal advocates. It looked like we might have some new case law to help strengthen and broaden the sometimes narrow interpretation of bestiality. Alas, the final outcome turned out to be a major setback in the successful prosecution of animal sexual assault.
Now, just a couple months later, we're seeing another high-profile case involving bestiality and child abuse -- this time, a child porn ring in Toronto. A man and three women have now been arrested and charged in the case after an eight-month investigation by Toronto police. All four are being brought up on sexual assault and child pornography offences and two of the accused have been charged with bestiality. I'll be keeping a close eye on the case to see how those charges are framed and what it does for bestiality case law in Canada.
Hearing about these cases, you may think that the link between the abuse of humans and animals incidental -- that abusers simply choose many ways to express those tendencies. In fact, several research studies conducted across North America confirm that the co-occurrence of these crimes represents an established pattern that is known as The Violence Link.
Animal welfarists are very concerned about what the newly-created bestiality loophole will mean for Canada's animals in the months and years to come. We have already seen three major cases hit the courts in the past two years. If you think this dangerous loophole needs to be closed immediately, reach out to your MP to let them know that you expect Parliament to act swiftly to protect both children and animals as soon as the House is back in session.
Follow HuffPost Canada Blogs on Facebook