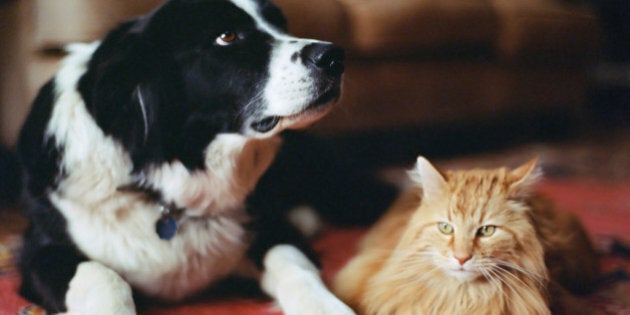 Thanks to the hard work of humane societies and SPCAs across Canada, we have a lot to celebrate this holiday season. The Canadian Federation of Humane Societies has just released our annual Animal Shelter Statistics Report, and it is full of great news for companion animals in Canada.
The short version of the story is that adoption is up, euthanasia is down, and we're seeing a drop in the number of animals needing shelter from these organizations. More and more, humane societies and SPCAs are undertaking effective sheltering strategies, like increased transfers between shelters (based on preference, demand or breed-specific legislation), spay/neuter services for both owned and shelter animals, permanent ID like microchips and tattoos to help lost pets make it back home, and innovative new management strategies to improve outcomes for animals. All of this adds up to higher adoption, lower euthanasia and fewer animals entering shelters in the first place.
We're seeing some amazing things in this year's CFHS shelter statistics report, which has measured the state of companion animal health and welfare in Canada since 1993, and we wanted to share them with you.
The big news is that things are getting a lot better for cats. The cat adoption rate is higher than we've ever seen in Canada. In fact, for the third consecutive year, we're seeing adoption rates for cats surpass adoption rates for dogs. The cat euthanasia rate dropped by an incredible 33 per cent since last year's report, and the proportion of stray cats being taken in by Canadian animal shelters is also on the decline.
Strays accounted for 48 per cent of overall cat intake in 2015, down from 53 per cent in 2014 and 60 per cent in 2013. In 2015, 61 per cent of cats taken in to shelters were adopted out to loving homes. This is more than double the rate from 1993, when we first began tracking Canadian shelter statistics.
Spaying and neutering is still the simplest and most effective way to save companion animal lives.
For decades, we've been facing a severe cat overpopulation crisis in Canada. Since releasing our Cats in Canada Report in 2012, which showed that cats are perceived to have less value than dogs and generally receive less veterinary attention and overall care, CFHS and our member societies have been working hard to optimize shelter practices for cats. We're happy to report that we're starting to see the tides turn.
Spay/neuter is making a real impact. In 2015, Canadian shelters spayed or neutered an incredible 58,000 animals, and 83 per cent of responding organizations also provided shelter animals with permanent ID as part of the adoption process. The fact that 25 per cent of cats and 33 per cent of dogs arrived at Canadian shelters already spayed or neutered, compared to 17 per cent of cats and 23 per cent of dogs in 2014, shows us that real change is starting to happen out there. We want to give a shout-out to humane societies and SPCAs for taking the lead in that work -- whether the animals already have a home or are yet to be adopted.
These numbers also suggest that public education is working. We know that Canadians want to prevent animal suffering and homelessness, but it requires concrete gestures like spaying or neutering pets and investing in permanent ID. Humane societies and SPCAs are putting their money where their mouths are by funding or subsidizing these kinds of initiatives for companion animals -- quite literally investing millions of dollars in the fight against animal homelessness. Spaying and neutering is still the simplest and most effective way to save companion animal lives.
As a society, Canada still has a long way to go in terms of valuing and caring for animals, but we're definitely moving in the right direction. I'm confident that, if we continue the trajectory of improved animal guardianship and keep investing in spay/neuter programs, we will gradually eliminate pet overpopulation in Canada.
Follow HuffPost Canada Blogs on Facebook