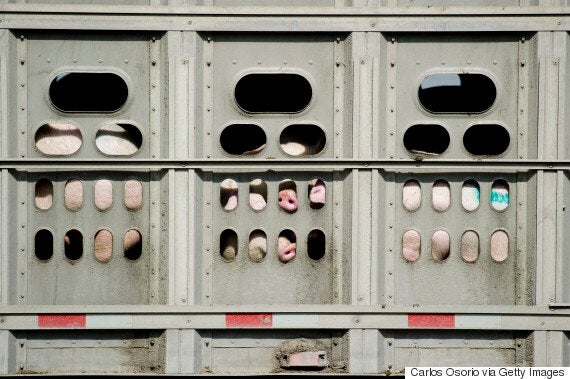 Trucks carrying pigs to Quality Meat Packers in Toronto, Ont., May 9, 2012. (Photo: Carlos Osorio/Toronto Star via Getty Images)
Thanks to a recent Access to Information request, Canadians learned this week that 25 defenceless pigs froze to death in a transport truck that was carrying them to slaughter in frigid temperatures with no shelter from the elements. This tragic story shows us how much change is needed in the way we think about farm animals in Canada.
Transportation is the most alien and stressful experience that a farm animal will have in its lifetime. The longer and harder this experience is, the more risk there is of stress-induced illness, injury and death. These animals deserve more dignity and care -- just because they are headed to slaughter does not mean we should allow them to suffer while they are still alive. All animals must be given the utmost protection, regardless of their circumstances.
To this end, Canada's new draft transport regulations have just been released. After more than 10 years of pushing for an overhaul of our inadequate and, frankly, irresponsible regulations, CFHS is disappointed to report that the proposed changes don't go nearly far enough.
Just because they are headed to slaughter does not mean we should allow them to suffer while they are still alive.
We need a paradigm shift when it comes to the transportation of farm animals -- to think of animals not as freight or a financial investment, but as living, breathing creatures who have the capacity to feel pain and fear. If we were to reframe this discussion along those lines, we would more easily recognize the need for protections relating to ventilation and exposure to the elements, the importance of clear rules to address chronic over-crowding on trucks, the urgency of shortening transport times and of making loading, unloading and other animal handling more humane and less aggressive.
Many of the issues related to inhumane transport are due to the decrease in the number of slaughter facilities in Canada, which is what makes transit times so long -- leading to the issues I mentioned above. But we can and should be doing more for Canada's farm animals. The most current science tells us that we are profoundly neglecting what animals need to maintain health and welfare during the transport process, which is why it causes so much trauma, injury and suffering -- and the deaths of millions of farm animals each year.
Transport regulations must be broad enough to address everything that's going on in the truck, as well as what happens before and after transport. This includes treatment of the animals during loading and unloading; how they're handled at each point in the process; contingency planning relating to weather and the health of the animals; environmental conditions on the truck, like ventilation, temperature, humidity and overcrowding; and the length of time that animals are transported without food, water or rest -- all of which have the potential to create additional stress and injury. Regulations must also address vehicle outfitting and training for personnel who interact with or transport animals.
Regulations are only as strong as their enforcement.
But regulations are only as strong as their enforcement. In addition to stronger regulations, we also need effective and consistent enforcement to ensure that farm animals are receiving the best possible protection throughout the transport process. Otherwise, we are trusting industries to regulate themselves.
If you believe that Canada's farm animals deserve better, please submit a comment on the new draft transportation regulations. You can read the draft regulations here and submit your comment using the contact info below.
In order for comments to be considered in public consultation processes like these, it's important that each one is unique and personalized, so be sure to put your own spin on it. All comments must be submitted by Feb. 15, 2017.
Comments on the draft regulations can be addressed to:
National Manager, Animal Welfare
Biosecurity and Assurance Programs Section
Canadian Food Inspection Agency
59 Camelot Drive, 3rd Floor East, Room 231
Email: animaltransportanimaux@inspection.gc.ca
You can also contact the Minister of Agriculture about this issue at: minister_ministre@agr.gc.ca. If you live on Prince Edward Island and want to contact Minister MacAulay's Parliamentary office, his email is lawrence.macaulay@parl.gc.ca.
Follow HuffPost Canada Blogs on Facebook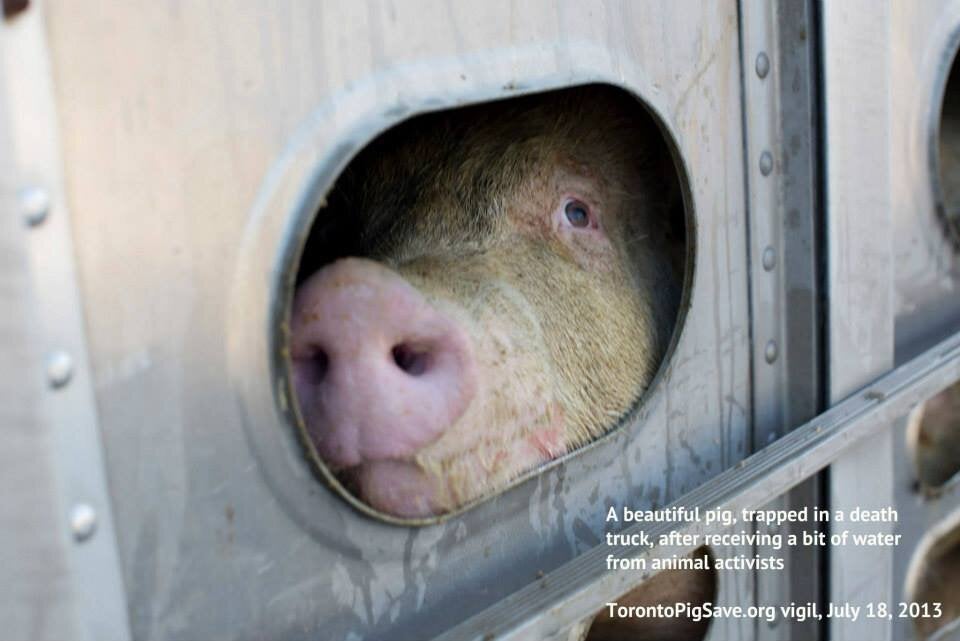 Pigs Left To Swelter In Toronto Heat Wave