The world's scientists vehemently condemn the captivity of whales, dolphins and porpoises, and it's time that we listened to them.
Twenty marine mammal biologists from around the world recently signed a collective letter in support of the goals of Bill S-203, which would outlaw the practice of keeping these animals in captivity in Canada.
In the letter, they state that captivity of whales, dolphins and porpoises, also known as cetaceans, cannot be justified in the face of a growing body of scientific knowledge about their biological needs, which shows that adaptation to captivity is extremely unlikely.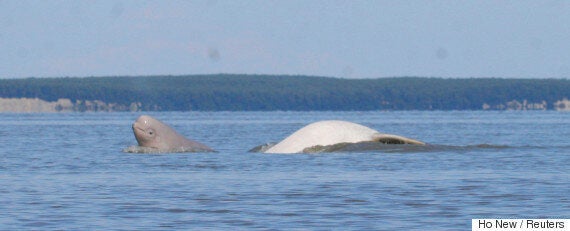 Captivity is harmful for many wild animals, whose biological, social and behavioural needs are rarely met, but it causes grievous harm to deep-diving, far-swimming, intelligent and socially-complex creatures like cetaceans, who travel several hundred kilometres in a single migration. Essentially, it's like living in a bathtub.
The aquarium industry attempts to justify cetacean captivity by claiming that their facilities make important contributions to science and conservation, but specialists in the field indicate that this is a blatant falsehood.
"I do not know of a commercial or other public aquarium where it could be justly claimed that its activities were important for the conservation of the species it held," says Dr. Sidney J. Holt, a renowned marine scientist with 50 years of research experience. "Claims that research performed on captive animals is for their benefit are specious, at best."
Let's not stand by and let more captive creatures die on our watch.
Not only do captive cetacean exhibits fail to contribute meaningfully to science or conservation, but the facilities themselves do not meet any of the accepted benchmarks for animal welfare, including the Five Freedoms and the Five Domains.
We need look no further than the Vancouver Aquarium to prove this point. In 2016, two beluga whales and a harbour porpoise died at their facility -- deaths that they could not fully explain. Currently, the aquarium has no more belugas on site because they have all died (including all of the baby belugas born in captivity over the years).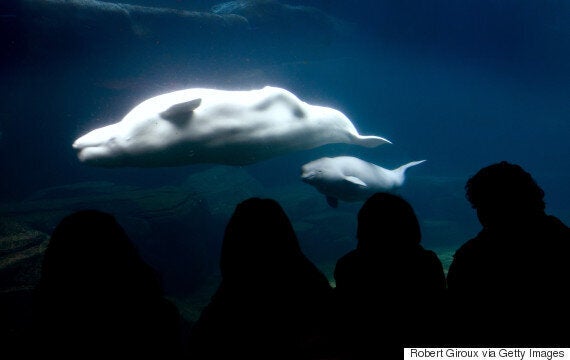 Visitors watch beluga whales at the Vancouver Aquarium Feb. 17, 2009 in Vancouver, British Columbia.
These tragic deaths offer Canadians an important opportunity to better understand the cruelty of captivity and also take action to stop it. Let's not stand by and let more captive creatures die on our watch.
Seeing a beluga whale in a tank does not educate us about the fact that they are a highly social, wide-ranging, deep-diving, migratory species that forms strong family bonds. Worse yet, it desensitizes people to the inherent cruelty of captivity -- for so many captive marine mammals, the world is a tiny enclosure devoid of joy or social connection.
After the year that Canada's cetaceans have had, Marineland and the Vancouver Aquarium will have a hard time making a case for continued captivity in the upcoming hearings before the Senate Standing Committee on Fisheries and Oceans.
On Feb. 28 at 5 p.m., the Committee will hear its first testimony from former Senator Wilfred Moore, who introduced Bill S-203 and will detail the innumerable reasons that Canada should end the captivity of cetaceans for good.
It's time to end the cruelty.
We're at a crucial moment in Canadian history. The majority of this country's cetaceans live at a commercially-driven amusement park that is currently defending itself in court against 11 animal cruelty charges and cannot pretend to have a higher purpose than profit. It is beholden upon us as a justice-driven, compassionate country to recognize the urgency of this situation and seize the opportunity to ban a cruel practice that science indicates is both obsolete and harmful.
Conservation efforts and public education on natural behaviours are best done in the wild, through sightings in an animal's natural habitat, or as part of humane, non-invasive whale watching tours.
It's time to end the cruelty. Science knows it and, in our hearts, we know it, too.
Follow HuffPost Canada Blogs on Facebook