In 2009, CBC TV boasted that half of its revenue came from advertising, which meant it depended less on government funding. Today, according to recently released CRTC data, only about 15 per cent of CBC TV revenues come from advertising, just over 23 per cent in the case of CBC French TV.Ad revenue in 2017 fell to levels previously thought unimaginable, well below $100 million.So, why is CBC still selling advertising, when the cost of doing so eats up much of the revenues generated? Should it go ad-free or let someone else assume responsibility for selling advertising?
In years with special events like the Olympics, CBC ad revenue is naturally higher, but an earlier analysis of the data showed the cost of Olympic program rights outstrips the extra Olympic revenue.
The CRTC financial data also reveal that the amount of government funding CBC managers allocated to CBC TV declined precipitously in 2017 for both CBC English and French TV. CBC has allocated slightly more of its government funds to CBC radio the past few years, after significant reductions several years ago.Reversing cuts to CBC radio that were used to support CBC TV was a good management decision, since radio is the most valued of CBC services.But something doesn't add up.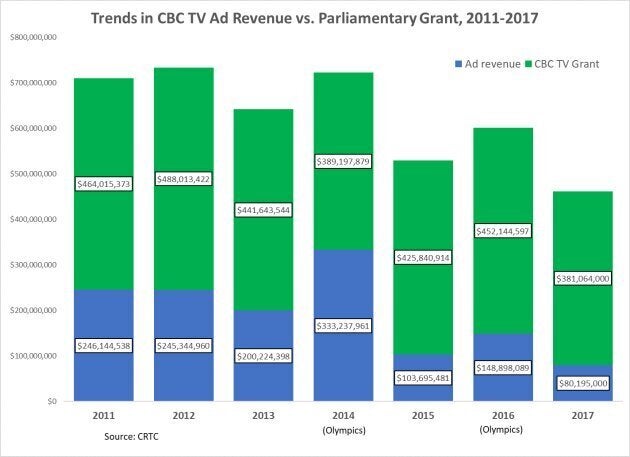 The Liberal government increased CBC funding by $150 million annually starting in 2016, yet CBC managers cut the allocation of government funds to its English and French TV services by almost $140 million in 2017.In a year when ad revenues tumbled, why was government funding for CBC TV also cut? Parliament provides an annual grant and it is up to CBC management to decide how the money is spent. Other than a small increase in funds going to CBC radio, where did CBC managers spend the new government funds?
The CBC also has an extensive internet presence and most of the increased government funding seems to have been allotted to its internet service, which is not regulated or monitored by the CRTC. The amount CBC is now spending on its internet services could exceed $200 million annually.
CBC internet services compete for readers with newspapers and online news services. Diverting funds to the internet is a very questionable strategy. When compared to CBC radio and TV, CBC internet services account for only a small fraction of Canadians' time. CBC internet services represent less than half a percentage point of the time Canadians spend on the internet and, given the competition from Facebook, Apple, Google and tens of thousands of other internet sites, this is unlikely to increase.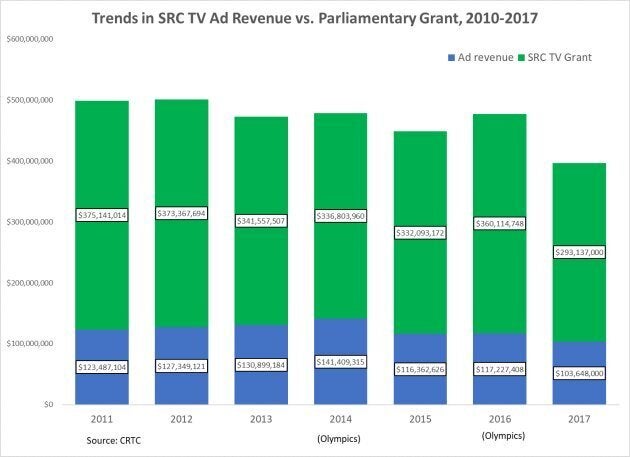 In 2014 CBC agreed to broadcast Rogers NHL hockey on Saturday nights and during the NHL playoffs and recently extended the agreement to 2026. Rogers produces the games, retains editorial control and retains all ad revenues, which partly accounted for the major decline in CBC ad revenue in 2015.CBC also extended its agreement with the IOC to carry the Olympics through 2024 and the Olympics will surely contain advertising. So, it seems advertising is not disappearing any time soon from CBC TV.CBC does have a TV app that allows you to view CBC TV ad-free online for $4.99 a month, but subscription numbers are secret.
The CBC proclaimed that its business model "is profoundly broken" when it proposed to the government in 2016 that it should go ad-free. The government has yet to respond to this proposal, perhaps because the corporation asked for an additional $400 million annually to make up for the lost ad revenue and the cost of filling the ad time with program material. Now that ad revenues have declined to the current levels, it seems an ideal time to consider the CBC's proposal, but with a slightly different approach.
Here is one suggestion: CBC gives 10 minutes of every hour in its schedule to newspapers.
CBC TV program schedules could contain a 10-minute block of national and local news and advertising, not within programs but at the top of the hour. CBC would produce the news segments, using resources and journalists provided by newspapers. Most print media today provide their online readers with video content, which could be incorporated into the news segments.The newspapers would bear the cost of selling ads and retain the advertising revenue. The newspapers might be more successful in selling ads than CBC sales departments. The latter could be disbanded and the savings put into CBC programming.There would be a significant reduction in advertising minutes on CBC, which currently can exceed 12 minutes per hour, and it serendipitously would allow CBC programs other than hockey to be uninterrupted by ads.
CBC News Network is also filled with countless minutes of ads and this model, perhaps including online news services, could also be applied to the news channel and to CBC's internet services.Rather than compete with newspapers and online news outlets, CBC would co-operate with them.
The Canadian newspaper industry is in dire condition with alarming declines in advertising and subscribers in the past decade, and it appears on the brink of extinction. Online news services are also struggling to find a business model that works. Some believe that the demise of newspapers will adversely affect our democratic system. Industry representatives have in desperation suggested that some of CBC's public funding should be shared with newspapers.
The public-private partnership proposed here would allow CBC to retain its public funding but give newspapers and online news access to CBC's commercial revenue, which is increasingly less important to CBC but would be a new lifeline for local and national newspapers.