ASSOCIATED PRESS
Most hockey fans cheer for the home town team. Yet some become lifetime followers of a team from another city. Home or away, the team you support 'represents' the traits you admire, including 'being from here'. I have been a devotee of the Chicago Blackhawks for over 50 years but have only been in the windy city a handful of days.
Growing up in Ottawa in the 1950s there was no local NHL team and families naturally sided either with Toronto Maple Leafs or Montreal Canadiens. Today there are still legions of Montreal and Toronto fans in Ottawa which irks many Ottawa Senators' fans and some local media personalities. There are Blackhawk, Canadiens and Leaf fans all over the continent. Why?
My dad, who was a champion featherweight boxer, a modest and independent sort who liked underdogs, had perhaps tired of Montreal winning the Stanley Cup; they won an unprecedented five consecutive years, 1956-60. It was in an era when there were only six NHL teams and just two playoff rounds, so it was a relatively easier route to the Cup.
Most people admire and will cheer for a winner, vicariously sharing in the joy of victory. Teams or their players have personality traits; they can be crafty, charismatic, tough, modest, tenacious, etc. Of course, being a winner is a compelling enough trait for most fans. If most of your friends, who are your enemies in sports, are fans of a perennial winner, like the Canadiens of the '50s and 60s, you may choose another team to represent and distinguish you from the crowd. In 1960 dad started cheering for Chicago, who had some exciting young stars like Bobby Hull and Stan Makita, who were emerging as a powerful scorer and wily playmaker, respectively.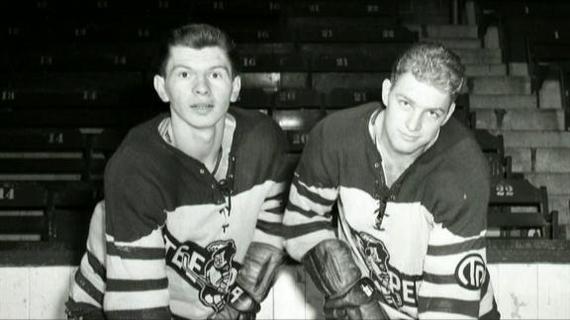 If your dad likes a team, there is a sacred trust, especially at an age when you are playing out your childhood hockey dreams at the neighbourhood rink. The Hawks lost to the Canadiens in the semi-finals but the next year, 1961, they defeated Montreal in the semi-final round, ending Montreal's string of five in a row, and went on to win the Stanley Cup versus Detroit in six games. Dad and I were ecstatic and looked forward to many more Hawk victories.
It was not to be. There are fewer guarantees in hockey than in life; luck comes into play in any given hockey game. The Hawks came close several times but didn't win the Cup again for 49 years and, sadly, dad wasn't around to witness the 2010 and 2013 championships. The last evening I spent with him we watched the Hawks play Toronto early in the 1987-88 season. My two kids have now become Hawk fans, despite living in Vancouver, home of the Canucks. My youngest daughter went to the trouble of tracking down one of the Hawk players in Vancouver to get his autograph on a team sweater which she later gave me as a gift.
I think about dad a lot every spring as the modern-day Hawks, led by two young stars in Patrick Kane and Jonathon Toews, who embody raw athleticism, exuberance and determination, begin their quest for another Cup. Under their leadership in the next few years the Hawks could win more Stanley Cups than all the Hawk teams of the previous 80 years. Given the difficulty of winning the Cup in today's 30-team league, this would elevate the Hawks to the legendary status of Montreal and Toronto in hockey history.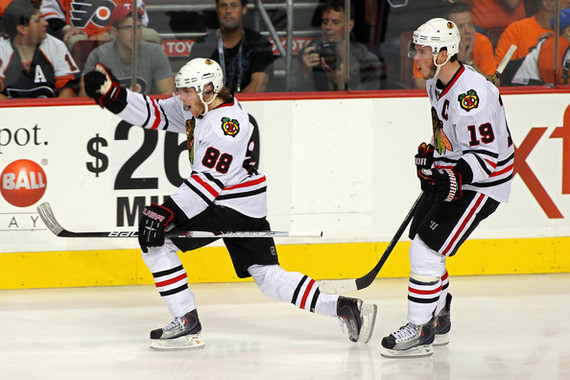 Many fans stick with a team because of a major collapse or a long term losing streak. Toronto Maple Leaf fans, the majority of whom weren't born when the Leafs last won the Cup in 1967, continue to be the most rabid fans because of years of disappointment, which can be a powerful elixir. A long-awaited win validates the faith and the investment in your team. Like Montreal, the Leafs had great success when I was a kid, winning the Cup for three consecutive years after Chicago's 1961 victory and Toronto and Montreal swapped the Cup for five years after that, with the Hawks and other teams looking on with envy. But the Leafs have had a long drought since. Remaining loyal to your team for life reflects on you and is more common than switching to another team because you move or like to be associated with a winner.
The most disappointing loss by the Hawks was to Montreal in 1971, despite having a 2 goal lead in the 7th game in Chicago. A series consist of seven games so that one team can demonstrate its superiority over the other but if it goes to seven games, luck can determine the outcome.
The Hawks didn't recover from that loss until 2010. Chicago has a 0-5 all-time record against Montreal in the finals but could well meet Montreal in the next few years to address that inequity. The 1971 loss contributed to Bobby Hull, who just turned 75, deserting the NHL to join an upstart league. Chicago's loss to Los Angeles in a seventh game this spring brought back memories of 1971 and will likely contribute to increased commitment from hard-core fans. Fans, like players, can be motivated by a significant loss.
If you want to get a sense of how much winning the Cup meant to Chicago fans, listen to WGN radio's John Wiedeman's call of the winning goal scored by Patrick Kane in 2010: "Blackhawks fans around the world, you've endured 49 years of frustration but your patience has finally paid off." Wiedeman referred to fans around the world, recognizing that there are many Hawk fans outside Chicago. He and his TV counterpart in Chicago, Pat Foley, who was just elected to the Hockey Hall of Fame, continue a long tradition of broadcasting excellence.
Media exposure of the NHL was scarce in the 1960s. Back then we had limited access to TV and radio coverage. CBC's Hockey Night in Canada had one TV game every Saturday night joined in progress, late in the first period! CBC Sunday night radio broadcasts continued until 1976 but if you wanted to hear Chicago broadcasts you had to tune in a U.S. clear channel AM station, whose signal was often very poor, unless you listened on a transistor or car radio which eliminated electrical interference.
I would attempt to boost the WGN Chicago signal with a copper wire antenna strung across the back yard but usually to no avail. There was so much signal noise most nights one didn't know if it was interference or the crowd at the Chicago Stadium cheering Bobby Hull's 50th goal. Today, one need only sign on to the live stream.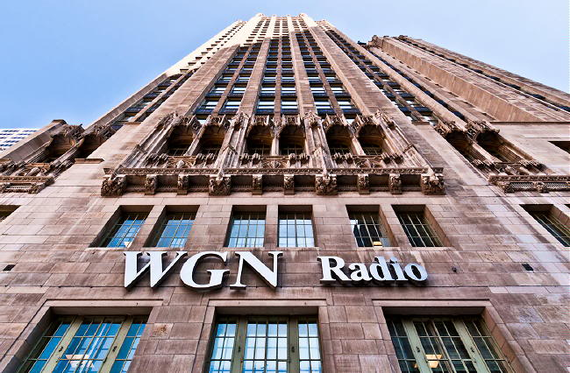 Radio Canada also carried a limited number of games on T.V. and radio; a former head of French radio once defended the radio broadcasts to me saying they were the only way to expose the hockey audience to proper French.
Today the fan experience is dramatically different. Instead of one TV game a week fans have access to dozens per week on numerous channels and one can stream all the games from the NHL's web site and buy them all from your cable or satellite company. Several 24-hour all sports cable channels now carry live games and air numerous programs devoted to discussion and analysis of hockey. Rogers, the parent company of one of the sports channels, just paid $5.2 billion for 12 years of exclusive national TV rights in Canada and this will enhance the fan's relationship with hockey in new ways.
Most cities now have all-sports radio stations, since something had to be done with those AM frequencies following the introduction of FM radio. Ottawa's TSN 1200, features not only game coverage but also insightful analysis from commentators such as Ian Mendes and Sean Simpson who provide listeners with hours of daily coverage on the inner workings of the NHL. Of course, the local papers in Toronto, Ottawa, Chicago, Boston or Detroit often have several columnists assigned to hockey and one can access their reports via Twitter or Facebook (often without having to subscribe to the online edition of the full paper). Some newspaper columnists provide awkward online videos of themselves discussing hockey (wanted: make-up artists, lighting technicians). Twitter and Facebook allow fans to interact with the columnists, other fans and the teams and players themselves.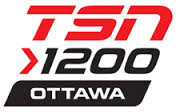 The most important new development is the online hockey blog. Every team now has at least one blogger who writes about the local team. They draw fans and readers from all over the world. The blogs in Chicago, such as The Committed Indian who morphed from the Second City Hockey blog, differ from the main stream media in one important respect. They are not directly dependent on the local team for their livelihood and provide free-wheeling, often outrageous criticism of the team and management. The mainstream media are more cautious, not as likely to rock the boat or question team player selections and game strategies. The major media do have direct access to players and coaches, which bloggers rarely have, but teams today have stock answers for most of the media.
The good blogs, with witty and colourful prose, have no qualms about suggesting line-up changes or pointing to perceived player or coaching flaws. For example, The Committed Indian was first to highlight that the Hawks became a three-line team this year, skating players on the fourth line for only a few minutes per game, a strategy coaches refer to as shortening the bench. This can work late in a game but can exhaust players on the top lines if employed through an entire game or series, especially against a top-level team. This contributed to the Blackhawks losing in this year's semi-finals.
The blogs were also quick to introduce advanced statistical analytics, such as Corsi and Fenwick, game metrics that help to better evaluate a player's performance. But the most important thing the blogs do is to engage fans, allowing individual fans to comment and offer their suggestions and observations (often with earthy language). This season I noticed for the first time that the mainstream media, at least some of the writers at the prestigious Chicago Tribune, were echoing the blogger's style and were more balanced and critical of the Hawks. Some bloggers are now guest analysts on sports radio stations and are being recognized by the traditional media.
The fan experience has changed irrevocably in the past decade and the contrast with the 1960s and 1970s is remarkable. Social media, including Twitter, Facebook and especially blogs have given fans access to not only much more information but also participation in team strategy and day-to-day tactics. The blogs have given fans an entirely new way of supporting their team. They also play a therapeutic role after a loss, needed with greater fan investment today.
Blogs, along with today's other media, strengthen fan loyalty and have given fans, who may have never played hockey or in, ahem, a few years, a whole new way to be fans.
MORE ON HUFFPOST: