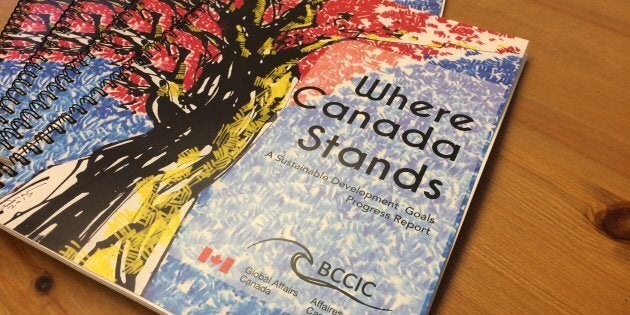 Is Canada pulling its weight? That question will be on the minds of the Canadian Delegation to the United Nations (UN) led by Parliamentary Secretary Celina Caesar-Chavannes today in New York. Currently, the High-Level Political Forum (HLPF) is mired in controversy about gender issues and Canada finds itself in the middle of the fray. Forty-four countries will voluntarily report on progress regarding gender equality (Goal 5), along with five of the 17 other Sustainable Development Goals (SDGs). The SDGs represent the most ambitious agenda for our planet, spanning issues from climate change to poverty eradication. They were agreed to in 2015 and represent our global plan for the planet until 2030.
All countries are expected to voluntarily report.
Ironically, while Canada has become a vocal advocate of stronger language on women's rights, we will not be making an official report on our own country's progress this year and while Goal 5 sets a target for eliminating all forms of violence against all women and girls, in 2014 women self-reported 553,000 sexual assaults and a 2013 Statistics Canada report estimates that 91% of cases of sexual assault are not reported to the police.
Relative to the global context, Canada does well on most SDG outcomes, ranking 13th out of 149 countries in the 2016 SDG Index. BCCIC analyzed national quantitative data from Statistics Canada and other official sources against the UN global indicators and interviewed 15 experts from 12 CSOs across Canada in an effort to provide a snapshot of Canadian performance on the seven SDGs under review at HLPF 2017. Combining this analysis with six case studies of individuals and CSOs living and working with these issues, its research shows that Canada has a long way to go before it can claim the UN mantra that "no one is left behind."
While Canada ranks well among other countries, it suffers enormously when it comes to regional differences and sub national indicators. The report points out that Canada sorely lacks agreed upon indicators for issues such as poverty and that these vary greatly, depending on who you are and where you live in Canada. In many cases, the stark reality of these demographic differences point out how much work Canada has yet to do. With 19.8% of children in British Columbia and 76% of First Nations in Manitoba living in poverty, we clearly need to do much more in Canada before we can claim to have achieved Goal 1 of the SDGs, which is to "end poverty in all its forms everywhere".
However, the report and many of the experts interviewed, clearly credit the Trudeau government for "coming back" to the multilateral consensus that action must be taken on issues like gender equality and poverty reduction or the health of our oceans. Global Affairs Canada has also reversed the previous government's reluctance to include Canadian civil society or youth representatives on official country delegations. This year the Inter Council Network of Provincial and Regional Councils was tasked with including two official CSO seats and two official youth seats on the official Canadian delegation. It is a move that essentially rebuilds Canada's reputation for transparency and youth inclusion and is a clear signal to other countries. CSOs are expecting a bold Ministerial Declaration with a strong commitment to all the SDGs and their integrated nature, particularly on gender equality, women's human rights, climate action and the ever-challenging Means of Implementation (MOI).
Much will happen before the week of negotiations is completed and there is fear that a Ministerial Declaration will not emerge because of differences on the issue of gender. Canada finds itself in the unusual position of taking a stand on these issues without clearly knowing where it stands.
Michael Simpson is the Executive Director of the British Columbia Council for International Cooperation, a network of civil society organizations based in Vancouver, British Columbia, and a member of the Inter Council Network of Provincial and Regional Councils, that represent nearly 400 CSOs across Canada.
Follow HuffPost Canada Blogs on Facebook