Getty Images
The fashion and style of Hollywood's elite has long been coveted by those of us not in the 90210 zip code. And while we wish there were an easy way to tell you just how you can score your own pair of Louboutin's without the Louboutin price tag -- well, we're not that good.
But we can offer our secret tips on how to dress like a celebrity, walk like a celebrity and accessorize like a celebrity without the million-dollar pay day.
Here are a few of our tips to stealing a Hollywood look - without the help of your own Hollywood stylist, agent or wallet filled with Benjamin's.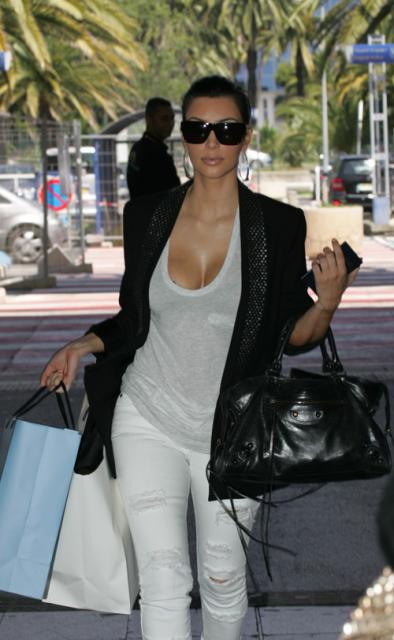 Photo Credit Celebuzz.com
Buy Their Lines
Several celebrities were nice enough to realize that while many of us love their styles, we can't exactly afford 95 per cent of what they wear. In what may have been their way of paying it forward, these celebs went ahead and created their own lines of clothing for us normal folk to buy! And we have to say -- we like what we see!
Lauren Conrad designed her own line exclusively for Kohl's that features everything from clothing to jewelry. While her prices aren't as affordable as, let's say, Forever 21 or H&M, they're still moderately priced and great quality.
Similarly, Kim Kardashian started ShoeDazzle to offer fabulous shoes to ladies who don't have the Louboutin budget. Kim recognized that every woman deserves to feel gorgeous, and acknowledged that her company was here to make it happen!
Identify Copycats
Clothing stores H&M and Forever 21 are notoriously known for selling items that are eerily similar to the ones sported by celebrities in movies, on TV and on the red carpet. No, you won't find a $20 version of the dress Scarlett Johansson dazzled in on the red carpet at the Oscars, but you may find an entire outfit for under $50 that's similar to one worn by Blair Waldorf on Gossip Girl.
Hit up your closest Forever 21 or H&M and don't be afraid to ask their sales guys or gals if they have something similar to what you're looking for. We've heard that Forever 21 will put items together or showcase similar fashions in areas of their stores to highlight current styles being worn on shows like Gossip Girl and Pretty Little Liars. Makes things that much easier!
Diamonds Are a Girl's Best Friend
Even Holly Golightly couldn't afford Tiffany's in Breakfast at Tiffany's, but that didn't stop her from looking fabulous at all times. We should first remind our readers that most celebrity bling you see on the red carpet has been very graciously lent to the celebrity to wear that night. In some cases, jewelers may have even begged the pretty famous faces to wear their diamonds (how do we get that gig, right?) But the real secret is: You can look just as sparkly in faux-diamonds yourself.
Want the diamond look, but don't have the diamonds? We recommend you discover the cubic zirconia. In some cases, those magnificent jewels on display in some of the world's most famous jewelry stores are just that -- CZs (for security purposes of course). While a diamond expert may know the difference, your wicked entourage probably won't.
Brave the Bright Lights
A must-have for any celebrity is a good pair of sunglasses to blind them from the light of those camera flashes and help hide their identity when traveling in the light of day. And while most designer shades worn on celebrities may be out of your price range, there are ways to replicate even the best designer styles!
We recommend hitting up your local H&M or Aldo Accessories! These stores usually carry sunglasses that are strikingly similar to popular brands like Ray-Bans or Chanel, but without the price tag. Now don't forget to work on your Hollywood "take cover" move!
At the end of the day, just remember one thing! Just because you're not part of Hollywood, doesn't mean you aren't sexy and perfect in your own right. So be fabulous in whatever fashionable attire you put together from your closet. The number one rule to Hollywood? Own it.
Get inspired by other Fashionistas rocking celebrity inspired attire today at BeauCoo.com!